Staff Training and Resources
2022 Summer Staff Training Sessions
Jake has led staff training at more than a dozen different camps in states across the country. These training sessions bring together the best research, theological reflection, and a passion for the gospel that will enrich your staff and prepare them to interact with their campers in meaningful and lasting ways. Contact us to schedule an in-person training session or to discuss possibilities for online virtual training. Standard training sessions are 90 minutes, but the length can be adjusted to fit your scheduling needs.
Luther Seminary Camping Ministry Class Resource Presentations 2022
The below resources are offered as presentations from a course called Christian Summer Camp in Theological Perspective, held at Luther Seminary in April 2022. Please use these games, activities, and songs in your camp or congregational setting. Remember to cite the students who created these resources! They have given permission for their presentations to be shared here and used by your camps!
Stone Soup Song
A brand new, interactive song for your camp or youth group setting! Is your soul hungry? Grab a group and let's make some stone soup together! Presented by Kristen Arends and Sam Garcia.
Blind Ball Toss
Here is a a new group building and challenge activity for use in a church or camp setting. Great for middle school or inter-generational groups! Presenters: Brittany Deal, Sarah Hembrook, and Kayla Feil.
Bible Story Improv
In this video, our presenters detail a creative way to act out Bible stories using improv, using the Good Samaritan as an example. Presenters: Matt Svestka, Sophie Warnberg, and Erin Bjerke.
Trust Fall Skit
Need a fresh skit for your retreat, lock-in, or camp experience? Here is one making creative use of the classic trust fall activity (don't try this at home!). Spotters ready? Presented by Micah Sieg, Gavin Diehm, and Dan O'Brien.
Pray So Devotional Activity
Looking for a new devotional activity to end your camp or retreat experience? Here is a new method, geared towards teenage participants. Presenters: Joe Jorgensen and Chris Lovagnini.
All Aboard the Ark Game
This short activity is great for elementary aged children. Presenters: Kate Lindberg, Mallory Arnold, and Menzi Nkambule.
Creator in Creation Activity
This is an immersive, contemplative activity making full use of whatever outdoor space you have access to. Good for teenage and young adult participants. Presented by Tyler Ames and Maddie Gray.
Safari Snack Time
Here is a creative way to share a snack with elementary aged children, connected to biblical themes and the presenters' African heritage. Presenters: Lusungu Msigwa, Damaris Nyaben, and Biak Thang.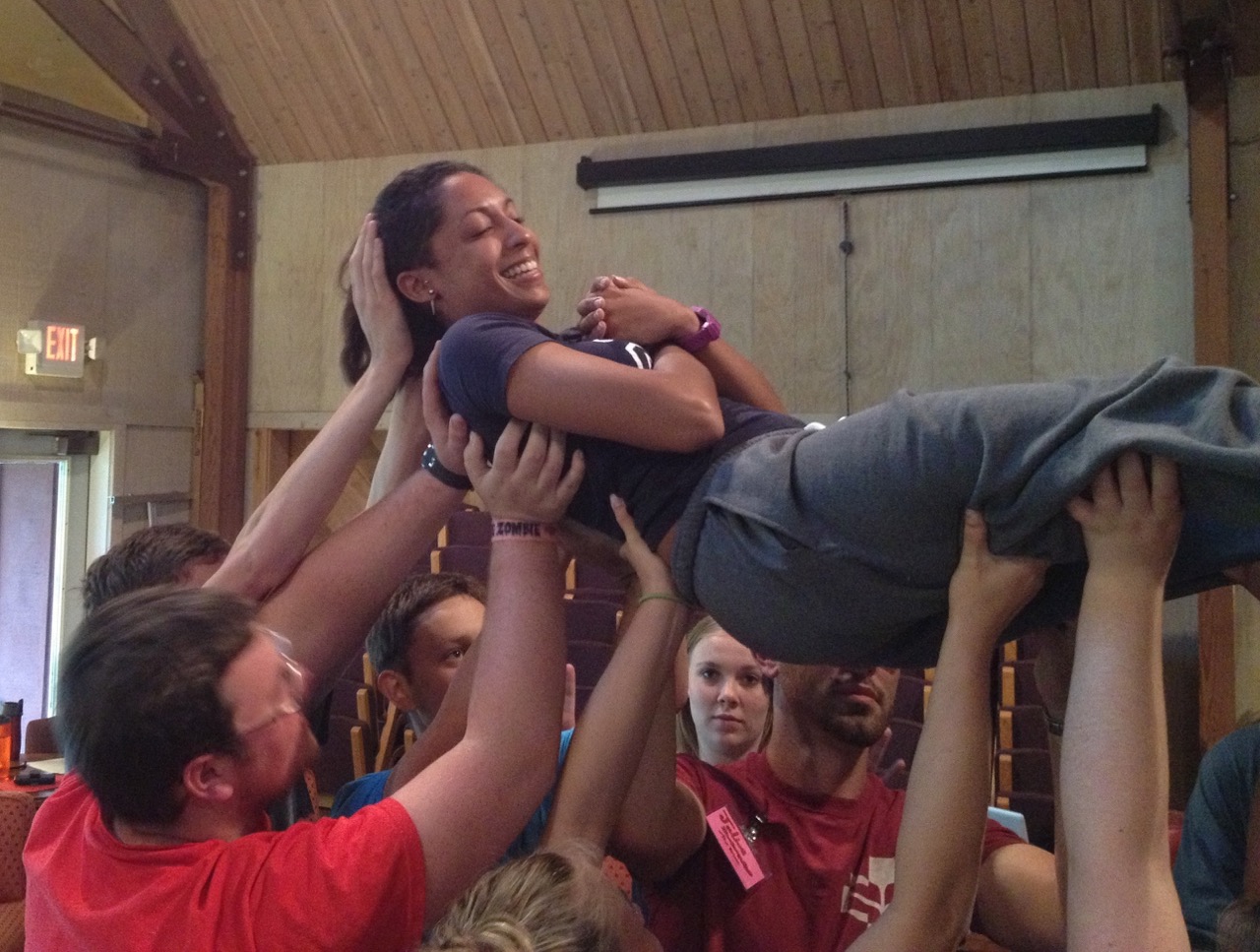 Interactive Lutheran Theology
Learning theology does not have to be about sitting and reading a book or listening to someone talk. We go through the basics of salvation by grace through faith using common group building activities. This is something that can be used with campers, as well!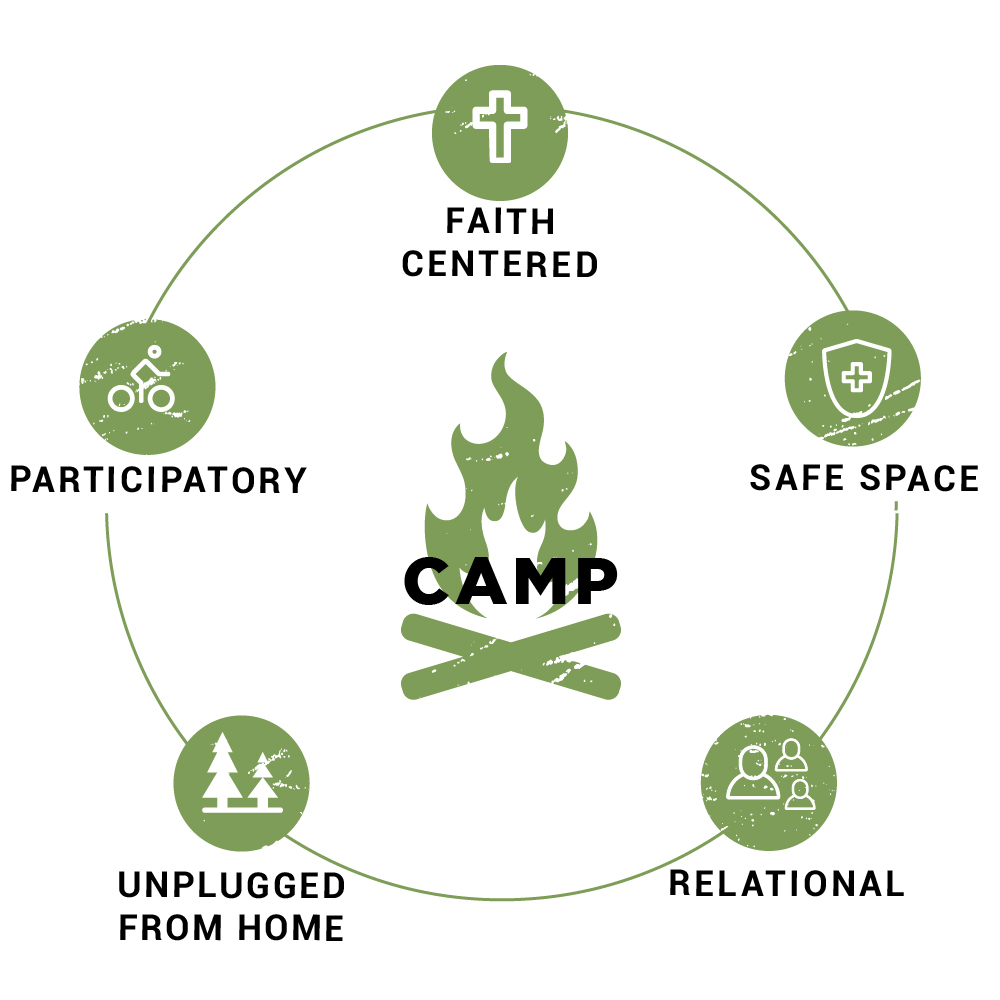 The 5 Fundamentals of Camp
This session explores the 5 fundamental characteristics of Christian camp: a safe space, unplugged from home, faith centered, participatory, and relational. We will explore practical ways of attending to these characteristics and come to a better understanding of the power of the camp experience.
Understanding Outcomes: Life Change and the Camp High
Based on years of research at camps throughout the country, this session will help camp staff understand how camp experiences lead to lasting outcomes. Camp is envisioned as a partnership ministry with congregations and homes. Staff will be given practical ways to help campers transition from a brief camp high to lasting change.
Leading a Camp Bible Study
While we usually are great teaching curriculum, we often neglect the important elements that set a camp Bible study apart. This session talks about the Bible as a whole, how we as Protestants read the Bible, and how to incorporate Bible study themes in to the daily rhythm of camp life. Attention is given to location, creativity from week to week, and consideration of group dynamics.
Thinking Theologically at Camp
Camp directors (88%) and parents (82%) overwhelmingly agree that faith formation and practices should be incorporated into all aspects of camp life. This session helps us ensure that every camp activity has a purpose and that God stuff is not compartmentatlized to worship and Bible study but is incorporated into everything we do at camp.
Custom Training Session
Do you have an idea for a training session that you would like help with? Contact us and let us know how we can help!
| | |
| --- | --- |
| 1-2 hours on site training | $250 |
| 3-4 hours | $350 |
| 5-6 hours | $500 |
| Full day | $800 |
Call Jake (608-865-0406) or e-mail jake@sacredplaygrounds.com to check on availability and get on the schedule. No mileage charge if camp is within 3 hours' drive of previous location.
Resource Library
The below resources are offered as presentations from a course called Christian Summer Camp in Theological Perspective, held at Luther Seminary in Spring 2019. Please use these games, activities, and songs in your camp or congregational setting. Remember to cite the students who created these resources!
The Trinity Dance
A simple, fun activity demonstrating through bodily movement the relationship of the Holy Trinity as a divine dance. Great for all ages and intergenerational groups in camp and congregational settings! Presented by Kelsey Hlavac, Kris Kincaid, and Jenn Bacher.
Vine and Branches Group Building
This group building activity, designed for the camp setting, can both keep a cabin group physically together and provide fun group building challenges. It is interpreted biblically and theologically. Great for upper elementary and middle school ages. Presented by Michael Jordan, Audrey Dontje Lindell, and Gunn Shin.
Books of the Bible (song)
This original song helps participants learn the books of the Bible. It is set to a West African rhythm and is great for cross-cultural instruction, particularly with a large group in a retreat, camp, or congregational setting. Composed and presented by Esther Sianipar, "Ola" Oloruntola, and Rhoda Chamshama.
Party Time Game
This group interactive game is designed to be an object lesson on accepting one another, in spite of our God-given differences. Great for the camp setting or a retreat, and particularly geared towards middle school students. Presented by Diana Kempenich and Jess Gulseth.
The Body of Christ (song)
This original song is based on 1 Corinthians 12 and great for a camp or congregational setting with children of a variety of ages. The presentation includes theological/biblical rationale, along with hand motions. Composed and presented by Katie Wagner and Anna Monke-Gervais. The Body of Christ Chords
Vocation Game
This short, creative game is designed to spark discussion about vocation, specifically how people with different careers are called to share God's love and word. The game is designed for elementary aged children and can be easily adapted for middle and high school ages. Presented by Bryan Katz and Jenny Hatleli.
Hidden Discussion Starters
This activity offers a twist on traditional conversation starters, along with a biblical and theological rationale for the importance of crucial conversations. Great for all ages in the camp setting. Presented by Gloria Osemenam, Taran Denning, and Anne Schaefer.
Way Back (song)
This original song connects participants to biblical call stories and encourages them to recognize their own calling. It is great for the camp or congregational setting, particularly for middle school and high school students. Composed and presented by Pat Kempf and Adrian Harvieux.
Blind Puzzling Group Building
This activity is an excellent illustration of the body of Christ and a great way to help people reinterpret disabilities by lifting up specific abilities. Some group members can see the puzzle, some can talk, and only ones who cannot see can touch the pieces. Great for middle, high school, adults, or intergenerational groups. Presented by Tyler Parks and Jimmy McGinness.