Webinar on study findings
Did you miss the March 15 webinar on the study findings? We've got you covered! We recorded the webinar and have it available now.
Presentation on the Big 4 Ministries
Watch Jake's presentation on the Big 4 Ministries to the ELCA coaching network's Courageous Leadership gathering on May 11, 2022. The Big 4 Ministries came from the phase 2 findings of the ELCA rostered minister survey. They include Sunday school, camp, youth gatherings/conferences, and campus ministry.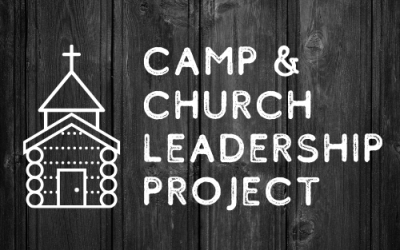 There are four key ministry spaces that are particularly important for faith formation and call to ministry. These include Sunday school, camp, the national youth convention, and campus ministry.
read more
Phase 3 Findings from summer camp staff
We surveyed summer staff at 50 different camps before and after the summer of 2021. It was a hard summer for many of these staff for a variety of reasons: pressures from the COVID-19 pandemic, increased mental health challenges, lack of ministry opportunities during the pandemic, and camps being short-staffed. In spite of this, staff members showed remarkable resilience and hope for the future of camping ministry and the church. They showed tremendous growth in leadership, and some discerned a calling to professional ministry. Read about the findings in the full report!
Phase 2 Findings from ministry leaders
We surveyed rostered leaders from across the country about the factors that contributed to rostered leaders becoming church professionals, including the role that camp played. Here are two ways to explore the findings. The Minister Survey Quick Facts sheet shares an at-a-glance look at the data from this survey. The full report includes two parts: a narrative summary and a deep dive into what we learned.
Phase 1 Findings: interviewing past staff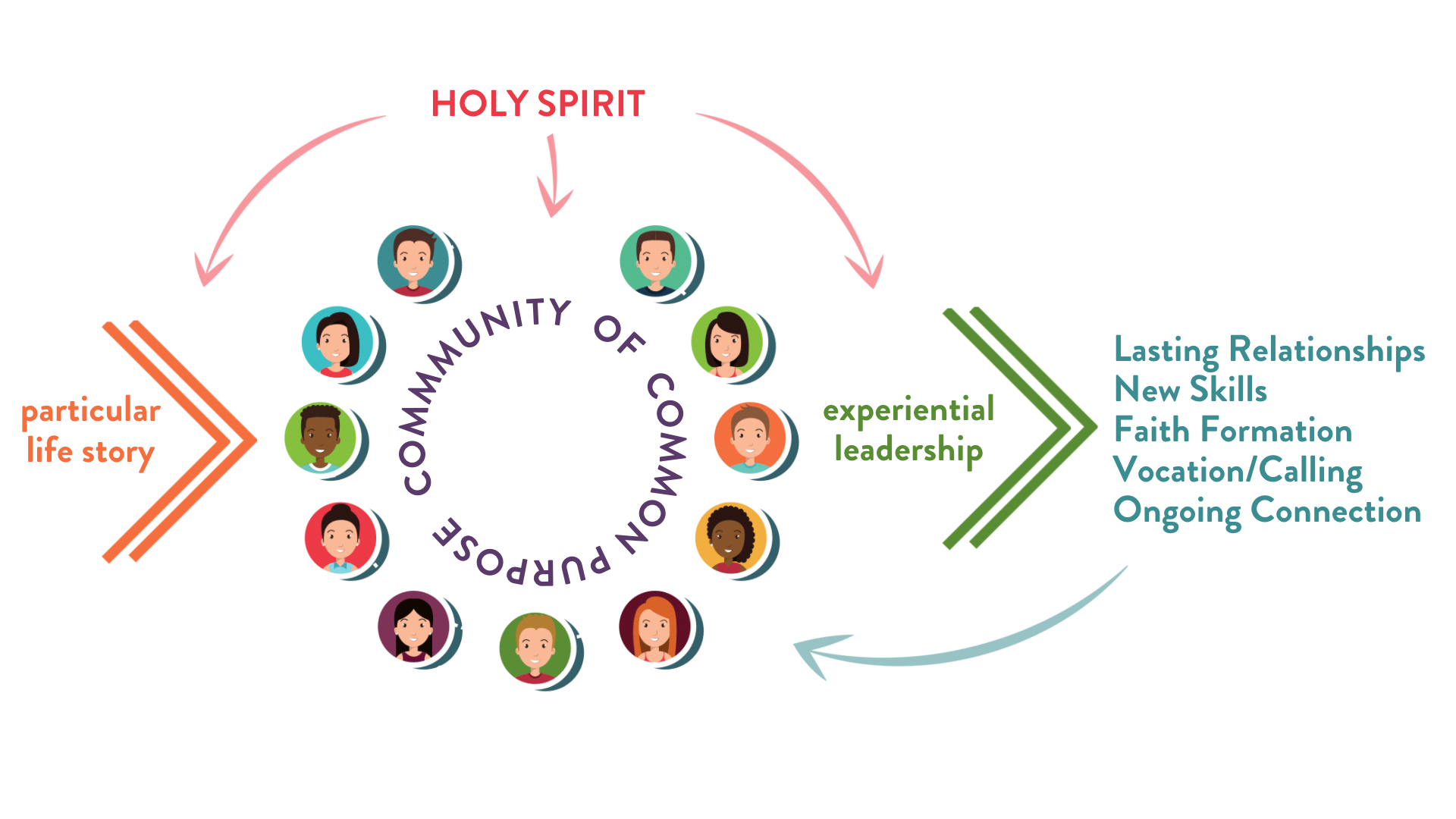 Conceptual Model of the Experience
The above model shows the movement of a unique individual with a particular life story into the experience of serving on summer camp staff (with the 3 key elements) and emerging with specific lasting outcomes. The return arrow shows the tendency of camp staff to return to the community and model of ministry that camp offers.
We interviewed 12 rostered leaders and 12 lay members of ELCA congregations in 6 synods. Here is what we discovered:
Particular Life Stories impact the experience. Serving on camp staff is part of an interconnected web of faith formation and personal growth.
There are 3 Key Elements of the Summer Staff Experience:
 Set-apart community of common purpose
Experiential leadership
Openness to experiences of God
Major Outcomes include: lasting relationships, vocation/calling, faith formation, new skills, and ongoing connection to camp or other relational ministries.
Meet the CCLP
The Camp and Church Leadership Project seeks to cultivate church leadership among young adults who have been engaged in camping ministries. The project focuses especially on the key characteristics and impacts of serving on Christian summer camp staff. The project is funded by a Youth and Young Adult Ministry Grant from the Evangelical Lutheran Church in America (ELCA) and centers on camps and congregational leaders in this denomination.
PROJECT PHASE 1: Exploring Church Leadership
We began by conducting a series of interviews with rostered and active lay leaders in 6 ELCA synods in Wisconsin. The resulting group of 24 interviewees had an even gender representation and a 40-year age spread. They worked at a total of 10 different ELCA summer camps, some for only one or two summers and others for six or more summers. Interviews were conducted betwee February and June of 2020.
The resulting data provided a remarkably consistent picture of how faith and vocation are formed at camp, leading to congregational involvement and leadership. The findings informed the subsequent phases of the project. CLICK HERE to view the findings summary.
PROJECT PHASE 2: Quantifying Church Leadership Factors
Based on the Phase 1 results, we developed a survey designed for all rostered leaders in the ELCA and distributed in partnership with synods and the churchwide office. The survey was designed to identify factors that contributed to rostered leaders becoming church professionals, including the role that camp played. For the first time, we are able to quantify the impact of camp experiences on rostered leaders of the ELCA in comparison to other factors, including such things as participation in campus ministry and youth congregational experiences.
The survey was conducted from October through December 2020 and received more than 3,000 responses.
PROJECT PHASE 3: Camp Leadership Training
The findings from the first two phases of the project will be used in a leadership training session designed for summer camp staff. This program will be piloted in summer 2021 at 3-6 camps during their staff orientation weeks. The included camps will include the two camps most closely partnered with the La Crosse Area Synod: Luther Park Bible Camp (Chetek, WI) and Sugar Creek Bible Camp (Ferryville, WI). The training session will be designed to encourage reflection among summer camp staff on their continued engagement in congregational ministries and potential for participating in church leadership. We will also gather feedback from young adult camp staff members on the findings of the project so far, using focus groups and listening sessions at each camp.
PROJECT PHASE 4: The State of Camp Leadership
Having identified the key factors from summer camp that influence church leadership, we will turn to the current cohort of summer camp staff to determine their experiences of these factors and their intentions of engaging in church leadership in the future. Our partnership with LOM and our history of working with camps will facilitate access to camp staff. We will select a representative sample of ELCA camps across the country and survey their summer staff members. This will help us understand how well camps are doing in cultivating church leadership among their staff members and reveal areas for growth.
The goal is to match or exceed the number of responses from the Lutheran Campus Ministry Study (about 850). Using certain identical questions will make these two surveys directly comparable and offer a multi-dimensional look of young adult ministries in the ELCA.
This phase is planned for summer 2021.
PROJECT PHASE 5: Enhancing Current Ministries
Based on the study findings, we will create inventories of action steps designed for camps, synod candidacy committees, and seminaries to help nurture faith and vocational discernment in young adults. The action steps for seminaries will be designed for admissions staff to more effectively recruit students and future church leaders who have served at summer camp. The action steps for synod candidacy committees will be designed to help them more effectively engage their area camps for encouraging leadership discernment and to nurture the faith development of current ministry candidates. The action steps for camps will be designed to more effectively nurture the key factors for church leadership identified in the study, focusing especially on those most in need of growth.
In addition to these specific action steps available to ministries throughout the ELCA, we will disseminate the findings through blogs, webinars, website sourcing, and scholarly articles. Specifically, we will offer a webinar designed for candidacy committee members to help them understand the project findings and apply the action steps in their particular contexts. LOM will host a presentation/workshop focused on project findings at their annual conference. We will also continue developing the camp leadership training sessions piloted in phase 3, making these available to more camps and providing resources for others to lead similar sessions. Resources will be made available through the LOM website.
We are not interested in doing research for research's sake. We believe that these findings can be used to have direct impacts on current and future church leaders. While a large portion of this project focuses on research, the ultimate goal is to cultivate church leadership among young adults who have been engaged in camping ministries.
Project Rationale
Though camping ministry is widely considered valuable for faith formation and leadership development, particularly among those serving on camp staff, it is also commonly dismissed as mere fun and games or only offering short-term impacts.
Outdoor ministry is one of the three largest young adult ministry programs in the ELCA, along with campus ministries and military chaplaincy. Camps employ more than 3500 young adults every summer, and we know that many of these young people go on to rostered ministry or active church membership. The problem is, we do not know how many become church leaders or the key factors that lead them to do so. What President Foss and Bishop Eaton recognize now demands to be rigorously studied and strengthened.  President Foss's expanded remarks on this are captured in the video.
This project directly addresses five of the core values identified by the Youth and Young Adults Ministry of the ELCA. First and foremost, it is designed to promote collaboration among ministries and to develop and multiply youth and young adult leaders. Secondarily, this project works to form faith in young adults and enhance current ministry efforts. Additionally, this project will address engagement of young adults of color.
Our Lutheran Outdoor Ministries provide places to engage people of all ages with the beauty of God's creation and programs that enrich faith formation. These camping and retreat opportunities allow space and time for deeper reflection on relationships and promote unique leadership skills in young adults.
This project is a partnership between camps and synods throughout the ELCA.
The La Crosse Area Synod, with direction from Bishop Jim Arends, is serving as the primary contact point for other synod offices in the efforts to engage rostered leaders in the project. The two camps associated with the synod, Luther Park Bible Camp (Chetek, WI) and Sugar Creek Bible Camp (Ferryville, WI), are collaborating with the synod office to serve as testing grounds for innovative staff training programs. Lutheran Outdoor Ministries (LOM), with direction from Don Johnson, is helping to engage ELCA camps throughout the country to connect with young adult camp staff. Sacred Playgrounds, directed by Dr. Jacob Sorenson, is facilitating the partnerships and conducting the research, with consulting and support from Dr. Rollie Martinson. Pictured at right are Bishop Emeritus Arends, Keith Newman (Luther Park director), Dr. Sorenson, and Jesse Klosterboer (Sugar Creek director) at the project kickoff in October 2019.
Dr. Jacob Sorenson
Director of Sacred Playgrounds and project director. Jake has been involved in research on camping ministry and young adult ministry since 2014. He gets to do a little bit of everything on this project, including project design, interviews, and number crunching.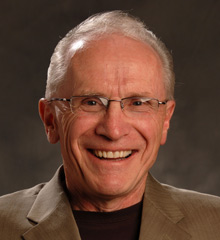 Dr. Roland Martinson
Rollie is professor emeritus at Luther Seminary and has partnered with the Sacred Playgrounds team on numerous projects, including the Effective Camp Project and the Lutheran Campus Ministry Project, which he directed. He is an interviewer, design consultant, and analyst on this project.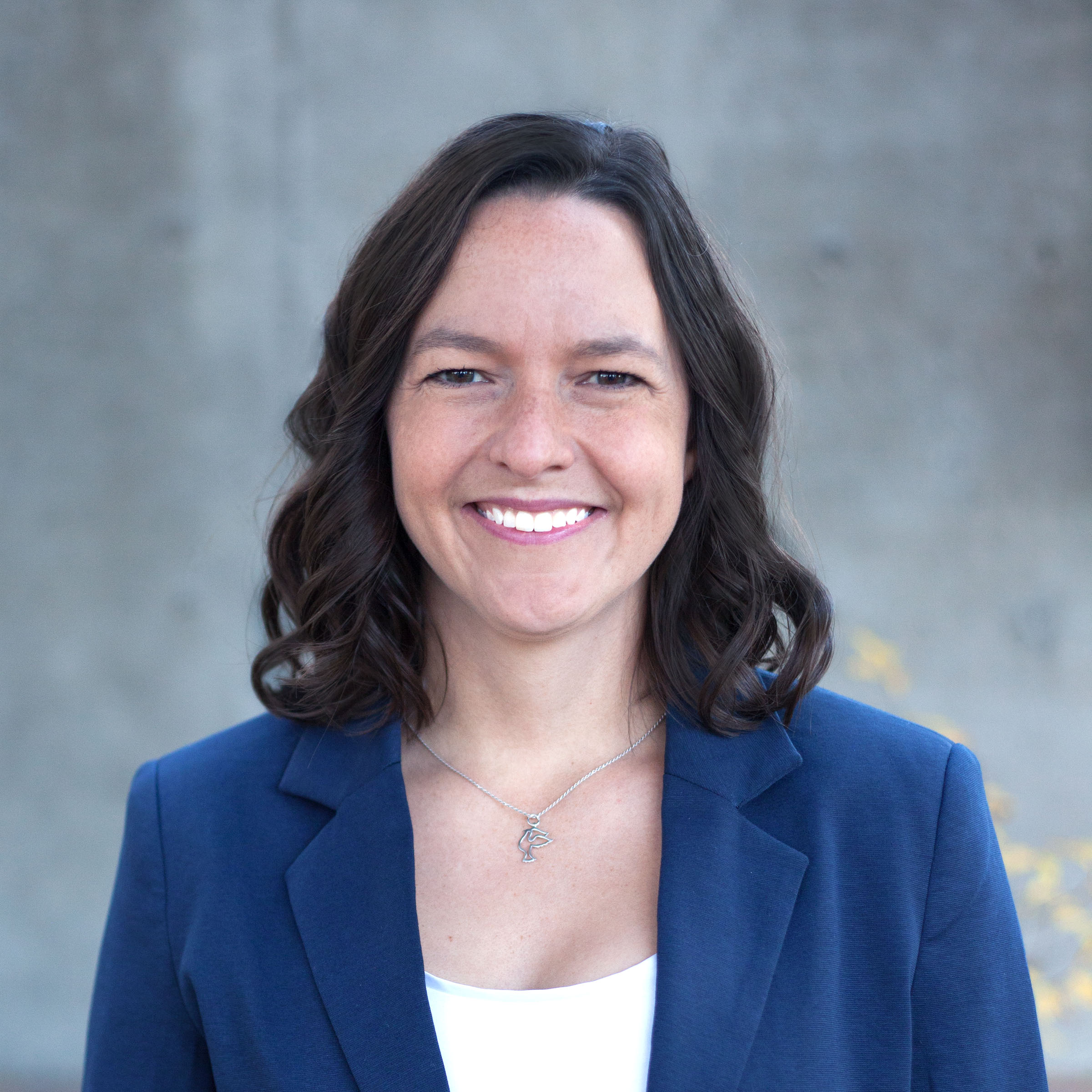 Amber Hill Anderson
Amber is a seasoned researcher with the Sacred Playgrounds team, having collaborated on the Effective Camp Project since its inception in 2015 and playing a central role in the Camp2Congregation Project. She serves as an interviewer, analyst, and research coordinator on this project.