the findings
What we've learned and why it mattes. C2C is a Sacred Playgrounds Project with funding partnership from the Lilly Endownment
THE LILLY ENDOWMENT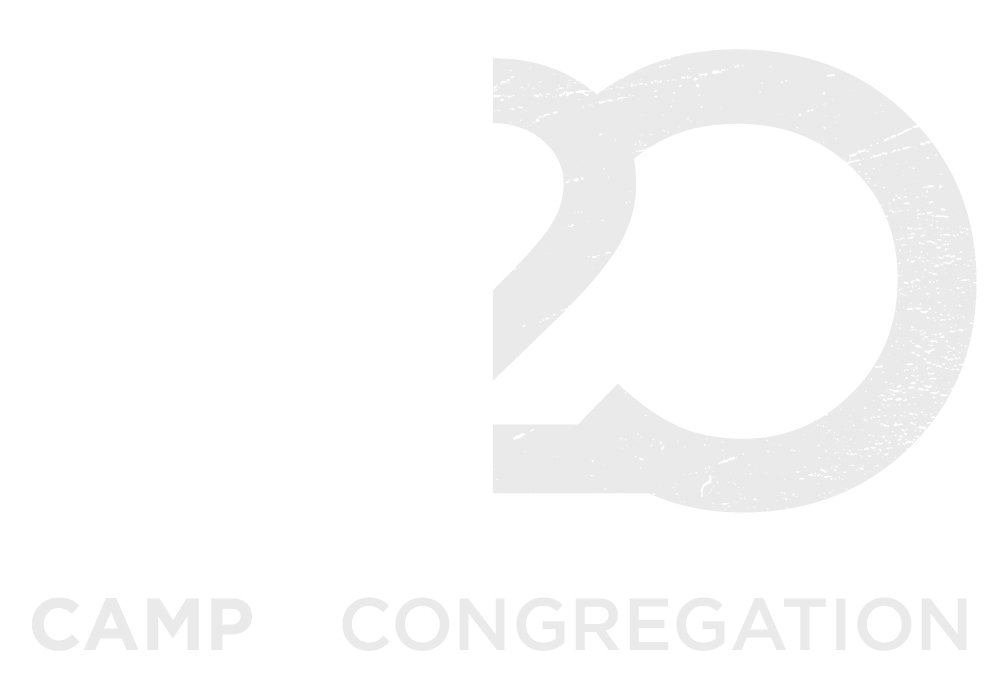 What is Traveling Day Camp?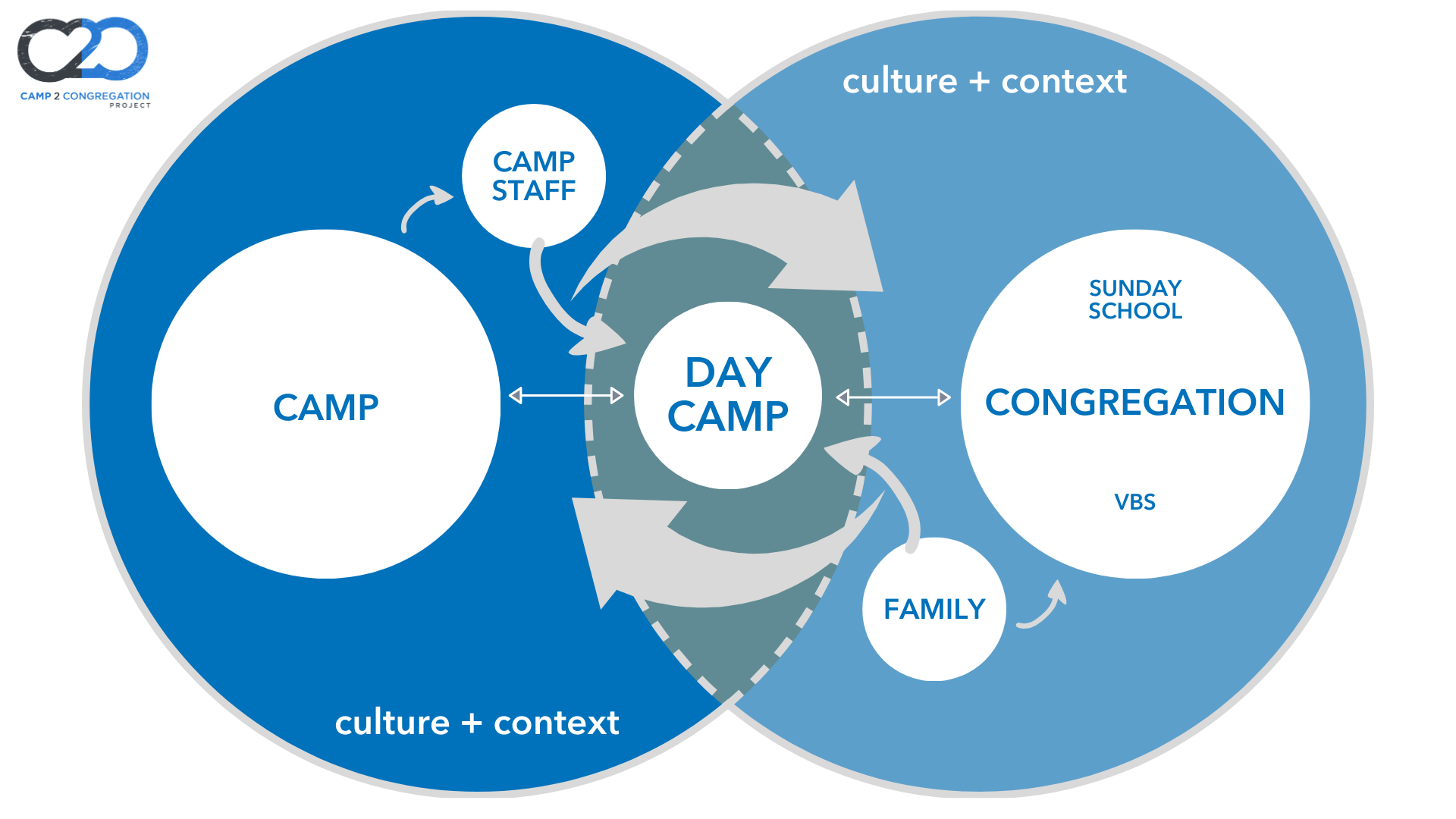 Traveling day camp is a partnership ministry between the camp and congregation in which trained summer camp staff are deployed to lead interactive programs in the congregational setting. These programs serve to cultivate faith formation, promote learning, and provide a doorway for deeper engagement in the congregation and camp.
Camper Impressions
Campers were asked to describe day camp in three words. Here's what they had to say. The larger the word, the more often it was used to describe their experience of camp.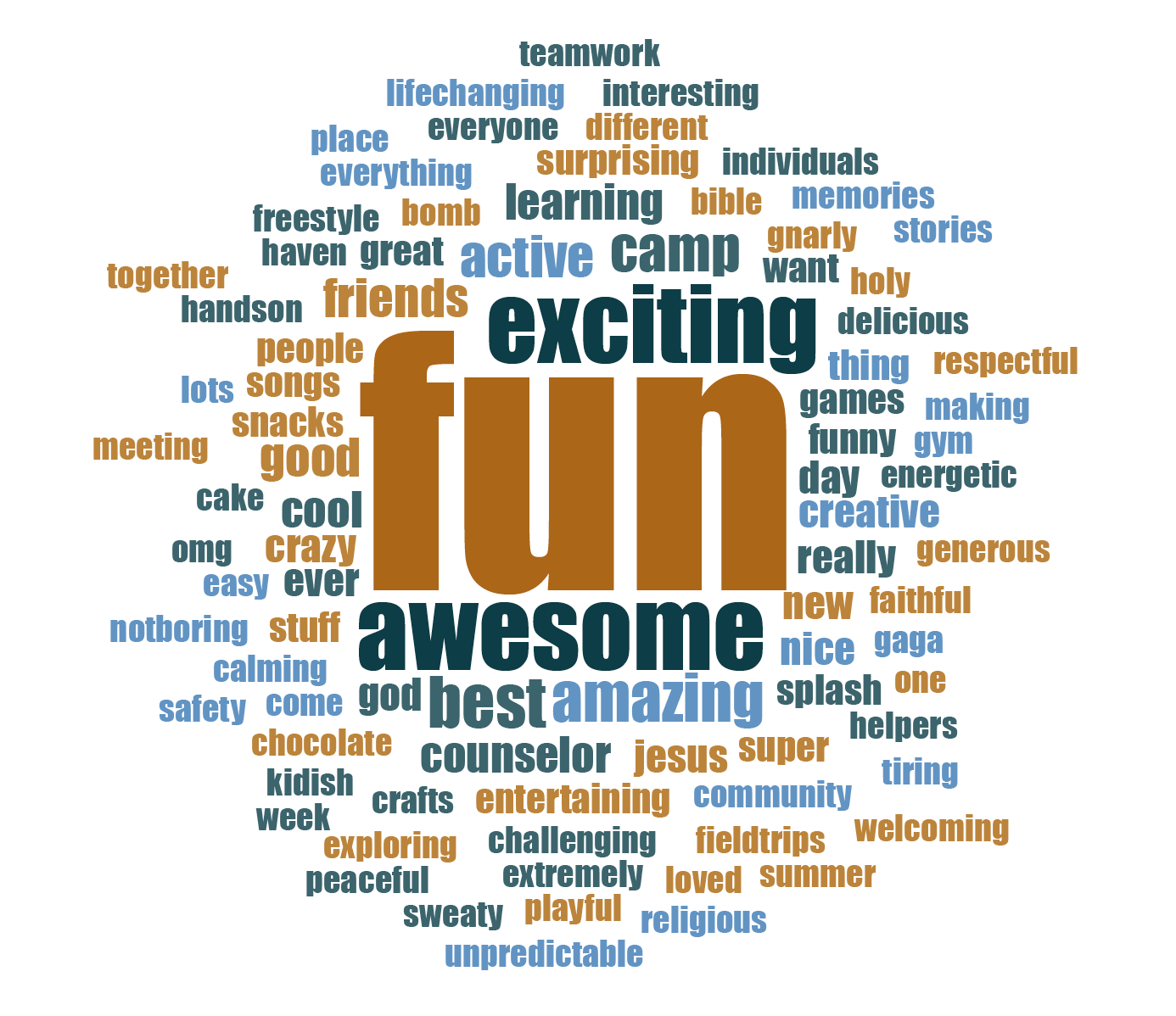 Day Camp had a
significant, positive
impact on my child.
Day Camp sparked
conversations about God/faith at home
Still singing songs
from day camp
3 Key Findings
Traveling Day Camps have the most impact when:
Partnership is Prioritized
The quality of the partnerships between camps and congregations had a strong influence on day camp. The impacts of day camp were enhanced when the roles for staff were clear, communication was effective, and the context of the congregation was considered. Many day camps had a long-standing tradition with congregations who purposely engaged with the camp year after year because the partnership was strong and the experiences were rich. Where partnerships were more transactional or communication was weak, the positive impacts of day camp lessened.
Summer Staff are supported & well-trained
When summer staff were supported and well-trained, the quality of the day camp was evident. When training and support broke down, the quality of the day camp was also affected. Undertrained and burnt-out staff members were clearly evident at certain day camps, and they drug down other staff members and the program suffered. Alternatively, staff who were well-trained and prepared to work with elementary-aged kids were effective and engaging cabin leaders who worked well with young campers and provided vibrant experiences. It became clear that a critical mass of camp staff helps facilitate camper excitement and program effectiveness. Understaffed day camps were less effective in terms of camper engagement and satisfaction.
Meaningful experiences are facilitated and processed in the context of trusted relationships
At camp, we teach through experience and reflection, and day camp should be no different. Effective day camps are set apart from VBS programs by bringing key elements of the camp experience, including the favorite songs, games, and program equipment. Novel camp equipment and apparatus can generate excitement and engagement. Camp staff are trained to facilitate these activities and help campers reflect on the experiences in meaningful ways. They were the vehicles to deliver day camp programs and then provided a purposeful translation of those experiences to impactful learning for campers. Summer staff also cultivated leadership development amongst counselors in training (CITs) who supported day camp programs and built their own relationships with campers from their communities.
Doorway
Day camp is a doorway for interest in overnight camp and a doorway to church engagement for campers and their families.
Cultivating
"Seed and watering." Traveling day camps are a supplement to faith formation in congregation and home. They also provide a foundation for future engagement in faith community
Pour Into
Day camp is a place where campers are "poured into." Pouring into includes a direct learning of specific skills. Plus, basic needs are met: feeling loved, being safe, and getting fed.
"Attending camp was just a place for me that I got to leave any baggage from life behind. I got to be me without any prior expectations or any of my past being connected to me. It didn't matter who my parents were or what I had done at school that had been weighing on me. I could go to camp and be me."
– Congregational Leader