This month at Sacred Playgrounds, we are deep in parent survey data from 21 different camps that worked with us. One or two weeks after campers returned home, these camps sent a survey to parents, asking about their child's experience. Parental observations offer great insights on the impacts of summer camp. For example, 96% of parents agreed that their child had fun at camp, 52% said their child came home singing Christian songs, and 85% agreed that their child grew in self-confidence.
85% of parents agreed their camper grew in self-confidence while at camp.

Stat of the Week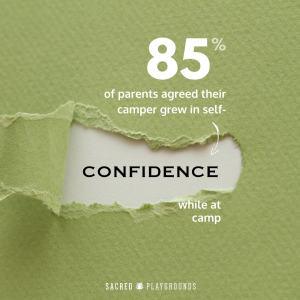 It's fun, but the kids are hungry!
On a less positive note, we're seeing a trend in open ended comments – camp food. Almost 10% of parents indicated that their child did not get enough to eat, and 15% were not satisfied with the quality of food available to their children at camp. (Note to our clients – if your report says this, you aren't alone.) We know that having enough food is important for children's physical and emotional well-being, as well as putting them in a good position to benefit from the many other positive aspects of the camp experience. As we consider the five fundamentals of Christian camp, providing quality food service is part of providing a safe space.
Several years ago, I had the opportunity to attend camp with some teens from church. We were participating in an adventure program where we left the main campus and were living outdoors with no access to modern conveniences. The campers carried all their own supplies, including the meals packed by the camp. Unfortunately, some of the meals provided were quite scant. Several campers had brought fishing poles, and we supplemented our meals with fresh fish cooked over the fire. It was delicious, but our stomachs still grumbled. Unfortunately, hungry stomachs meant that the campers were really looking forward to hitting a drive through as soon as possible after leaving camp, rather than reflecting on how they had grown.
Since I was there with the campers, I was able to speak to the director and was satisfied that the next groups would have more food for their own adventures.
Heed the family wisdom passed down from my grandfather-in-law: "Feed them or fight them." When we are hungry, it is difficult to be our best selves. It is no different with campers. Camp can be a somewhat stressful environment, living with new people, trying new things, being away from home.
Parents know this, too. Those who were dissatisfied with the food service rated the overall camp experience significantly lower and were significantly less likely to agree that they were planning to send their child back to camp. Cutting corners on food service doesn't make sense from a ministry perspective or a cost-analysis perspective. This is not the place to try and save money.
Ideas to try
How can you ensure that your campers are receiving enough varied, adequate food? Some thoughts:
Allow campers to have more food if they are still hungry.
Provide easy add-ons and alternatives to the main course – cereal bar at breakfast, salad bar, bread and butter, cheese sandwiches
Set out simple, healthy snacks (fruit, granola bars, etc.) between meals.
Ensure your menus are aimed at the age group you serve. Young children and teens have different tastes, as do adults.
Most importantly, INVEST in your food service. Hire and work to retain high quality staff who get the importance of food service to your ministry. Raise your food budget. Go to your board with the numbers we have provided, and make the case.
No one is going to vote to keep children hungry or turn parents off to sending their kids to camp.
Great food service is an essential part of a great camp – it's the kind of thing that people don't notice when it works well, but they really notice when it is not up to expectations. Not only is plentiful, good food part of the ministry of hospitality, it is also an important part of creating a positive environment in which campers can learn and grow in faith.