What is a playground?
The dictionary tells us a playground is "a piece of land designed and often equipped for recreation, especially for children." Okay, it's a place to play. Its purpose is fun. But the purpose of a playground is so much more than a place for fun.
A playground is a place to recreate, that is a place to re-create, to create again, especially in the imagination. We re-create our understanding of the world and of sense self through play. We understand the world around us through relationships and we see the future through our imagination.
It is no accident that "Playground" is in the name of our business. Because we believe that all these attributes are an essential part of a well nurtured spiritual life. Humans need to have places where our spirits play, find joy, and create a sense of self. Our ministry is to encourage the nourishment of spiritual life in the camps and outdoor ministries of the church.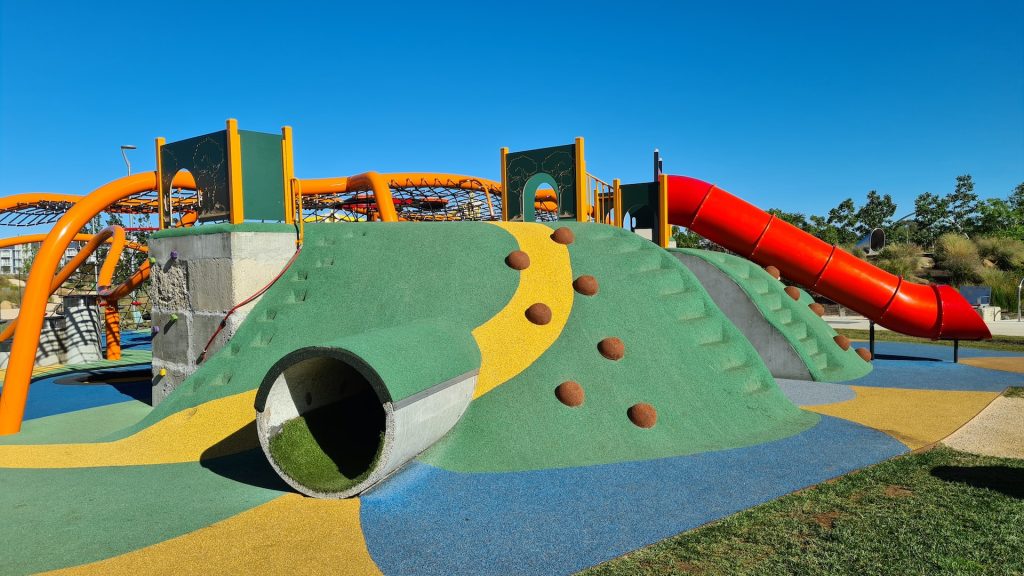 In a June article, "The Future is a Playground," Caitlin Gibson explores that nature of playgrounds and they can be designed to support children's flourishing and " a culture of caring for people and caring for the planet." Playgrounds help to shape a narrative of childhood. What narrative would we like the children in our sphere of influence to have about their earliest years? Let's allow them to play to discover the world around them.
"A playground is a place where children both escape and prepare for the complicated reality they inhabit."

The Future is a Playground
"What happens at a playground? Kids teach each other tricks. They flip off a platform, reach the top of a climbing wall, leap to the ground from an airborne swing. They learn how their body moves through space. They make a friend. In an ideal play space, [Robin C.] Moore says, children have intimate contact with nature — trees, rocks, dirt, water. All the while, he says, they are acquiring tacit knowledge, developing an understanding of their environment based on what they can see, do and feel for themselves. A playground is a place where children both escape and prepare for the complicated reality they inhabit."
Playgrounds for the church
At the sacred playgrounds of outdoor ministry sites, children, youth and adults, step out of the complicated reality of life (camp is unplugged) to teach and learn from one another (camp is relational), to learn about how they inhabit the world (camp is participatory) to be in nature (camp is unplugged), and all of this surrounded by a community that embodies the conviction that it is all God-created and God-blessed (camp is faith centered.)
Gibson traces a brief history of playground design and installation – including a wave of lawsuits, the growth of playground safety standards and the standardization of playgrounds based on what adults thought children wanted. A slide has a proper way to be used, and rules. When my children were young, I certainly reminded the many times, "do not climb up the slide, use the ladder instead." Now my children are old enough to have internalized the rules of slides, and have lost that sense of adventurous wonder a playground evokes in a six-year old.
This brief history, and the fact that playgrounds are not equally accessible to all people – playgrounds in minority neighborhoods are half the size and five times as crowded – has lessons to teach those in outdoor ministries. Camps are, perhaps, the playground designers of the church – particularly attentive to the needs of children and youth, inviting them not only to participate, but even to design their spiritual play experiences. Camps allow children to not only to be recipients of ministry, but to be ministers to one another and to adults. At their best, camps are about exploration and imagination and less concerned with rules. And they must continue to work toward being even more radically welcoming and inclusive of those who have traditionally been excluded from places of leisure and/or places of spiritual development.
Maybe the church needs more playgrounds and less solemn assemblies – places where we forget the rules of how to worship for a while and just play, laugh, explore and grow. As Proverbs remind us, the Wisdom of God plays in God's presence and delights in the human creation. (Prov. 8:30-31).