Like most people, I had a summer reading list. I finally got around to finishing Back Pocket God (Denton and Flory, 2020), the latest book from the National Study of Youth and Religion (NSYR). It is full of fascinating statistics and implications for emerging adult ministry.
If you are unfamiliar with the NSYR, it is one of the most significant studies of all time focused on the religious lives of young people. It started with a random sample of all American teenagers way back in 2003. This allowed the researchers to characterize the religious beliefs, practices, and key life influences of the entire teenage population across multiple demographic categories. The researchers then followed these young people for 10 years to see how their lives progressed and learn what influenced their religious beliefs and practices.
This is where we learned, for example, that 39% of all American teenagers had attended a religious summer camp at least once in their lives, including over half of Protestant teenagers. This is where we learned that emerging adults who attended a religious camp as children were over 3 times more likely to remain connected with their religious tradition 5 years later compared with those who never attended camp (read more here).
The NSYR also first described the awkward-sounding Moralistic Therapeutic Deism (MTD) as the default religion of American teenagers. Briefly defined, this is a watered-down form of Christianity that affirms the existence of God and heaven but does not regard God as particularly active in the world. In this pseudo-religious understanding, the main goal of life is to be happy and generally be good to other people (see the first book of the study, Soul Searching).
Ten years later, the young people who first participated in the study as teenagers were now 23-27 years old, in the middle of the life stage known as emerging adulthood. Some were married with children, while others were still working on figuring out their life path. The researchers noted that the default religion had shifted even farther from orthodox beliefs, from MTD to what they called "the Pocket God" that functions like an app on a smart phone: readily accessible but only useful for limited or very specific functions. This new default religion is highly individualized and customizable. As the researchers say, the Pocket God is "close at hand but safely stowed out of sight" (p. 233).
For those of us who work in emerging adult ministry, this description rings true to an extent, but it also chafes against our lived experience. The reason for this is very simple: the NSYR is a broad, generalized look at American religion. MTD and the Pocket God may be trends and even the default religious beliefs among teenagers and emerging adults, but they are far from exhaustive descriptions. There is a tendency among church professionals to despair when we encounter concepts like the Pocket God and to conclude that we need a complete overhaul of the church and its practices. But this ignores the fact that we have thousands of faithful emerging adults engaged in ministry in the church, not least of which are those who served on summer camp staff this year.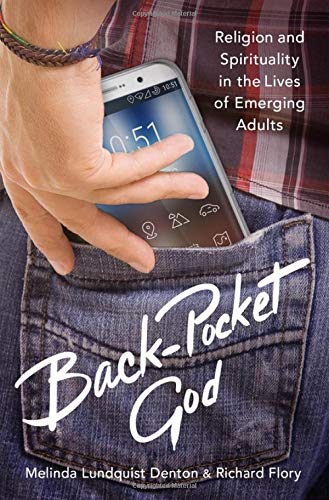 Take a breath and read beyond the book title
Beyond the catchy moniker, the book has some fascinating findings about what sustains religious faith among emerging adults. More than a quarter of respondents were religiously committed and another quarter were at least marginally connected. These are primarily the young people we engage in ministry. We know them to be curious about faith, caring of others, interested in spiritual growth, and oftentimes dedicated to spreading the good news of Jesus Christ. The authors found these people and share some of their stories, even as the book tends toward the more negative narrative.
Everyone who works in emerging adult ministry knows that the religious trajectory in these years (ages 18-29 or so) is generally one of decline and questioning, as they move out of their homes and focus heavily on charting their own life trajectories. The study confirms this. Almost two-thirds (63%) of participants showed a pattern of religious decline over the decade of the study. However, there is more to the stor. The most stable of all groups over the course of the study included those who maintained a high, stable religious trajectory. That is, they began the study as teenagers with a high level of religious faith and maintained this faith throughout the ten years of the study. They accounted for 29% of all study participants. Then there were those (the remaining 8%) who bucked the trend completely, showing moderate or dramatic increases in religious belief and commitment (pp. 156-162).
Key takeaway: faith in the home
The key takeaway is that there are certain practices and supports that nurture faith over the course of the teenage and emerging adult years. Listen up, camp folks, because what you do matters! Rather than despair, those of us who work in emerging adult ministry can lean into these practices and double down on what we do well. The authors note that the most important factor, by far, is faith in the home. Most especially, young people who had frequent conversations with their families about God and faith during the teenage years tended to maintain their faith long-term. Those who maintained healthy relationships with their parents also tended to maintain their faith.
This confirms a tremendous amount of supporting research demonstrating that the most important locus of faith formation is the home. Congregations, camps, and other supporting ministries should see themselves primarily as supplemental to the ministry of the home (how are those devotion and mealtime prayer practices going?). Affecting the faith practices of the home, particularly the frequency and substance of faith conversations, can dramatically impact faith formation and retention.
A large quantitative study like the NSYR relies on huge datasets and broad generalizations. While we gain wisdom from these findings, we must always remember that people are not numbers. Real stories matter. This is one thing that I appreciate about the NSYR. They go beyond the numbers to dive deeply into individual stories, and they base their findings on real conversations with young people that they have followed for 10 years. In the end, after all, it comes down to individual ministry and personal relationships, where we meet young people where they are. That means we need to maintain these important ministry spaces like campus ministries, camps, and service experiences that engage emerging adults so effectively. Let's improve the camp staff experience. Let's explore what works in campus ministry.
Do not despair. Continue the ministry to which God has called you, and take the time to listen to the stories of young people. You will find faithfulness, curiosity, and hope.