Looking to have the greatest impact, to generate the most bang for your buck? You may need to shift your gaze. Whenever I go over the findings from a new study, people always ask me if I found anything surprising in the data. I usually have to make something up or think really hard. Not this time. This one surprised me.
We conducted an enormous survey of pastors and deacons in the Evangelical Lutheran Church in America (ELCA) at the end of 2020. We received more than 3,000 responses, representing nearly 20% of all rostered ministers. The survey is part of the Camp and Church Leadership Project. The primary goal of the project is to assess the impacts of working on summer camp staff on faith formation and leadership in the church. Our initial interviews revealed that the project was going to be MUCH more complex than just asking about summer camp.
The experiences of attending camp and working on summer staff were always intertwined with other faith-forming experiences. It was difficult to separate these influences, even when considering individual faith stories. How much more difficult to make broad generalizations! We constructed the survey in a way that could address the intersections of multiple faith-forming experiences common in the ELCA. This allowed us to determine how frequent the experiences were among ELCA ministers and also how influential they were for those who had them.
One ministry space rose to the top: Sunday school.
Didn't see that one coming? Neither did I! On the one hand, it is not surprising that Sunday school is the most ubiquitous experience among ELCA ministers. After all, while some converted to Christianity and received their call later in life, most grew up in the church. In fact, 94% of respondents attended Sunday school monthly or more when they were in elementary school. But being present is not the same as being influenced. After all, there were other ubiquitous experiences. 92% were confirmed prior to adulthood, 83% participated in a church youth group at least monthly in high school, and about two-thirds (64%) attended overnight Christian summer camp at least once. But when it comes to influence, childhood experiences in the congregation win out.
When asking about impact, we lumped childhood experiences in the congregation (including Sunday school and VBS) together, so we cannot exclusively attribute the perceived influence to Sunday school. However, of those who indicated that they attended Sunday school at least a few times a year or VBS at least once, about three-quarters (73%) said these childhood experiences were "very" or "extremely important" to their personal faith formation. The only other experiences that were attributed this much importance in faith formation were serving on summer camp staff (78%), participation in Lutheran Campus Ministry at non-Lutheran universities (67%), and participating in year-long service organizations like Lutheran Volunteer Corps (72%) or Young Adults in Global Mission (highest of all, at 90%). The thing is, these were far less common. Just over a third of ministers served on camp staff (36%), only 20% participated in Lutheran Campus Ministry, and barely 2% served in either service organization. I do not mean to downplay the importance of these ministries, but did you see those Sunday school numbers? Furthermore, almost everyone who had these other experiences first participated in Sunday school.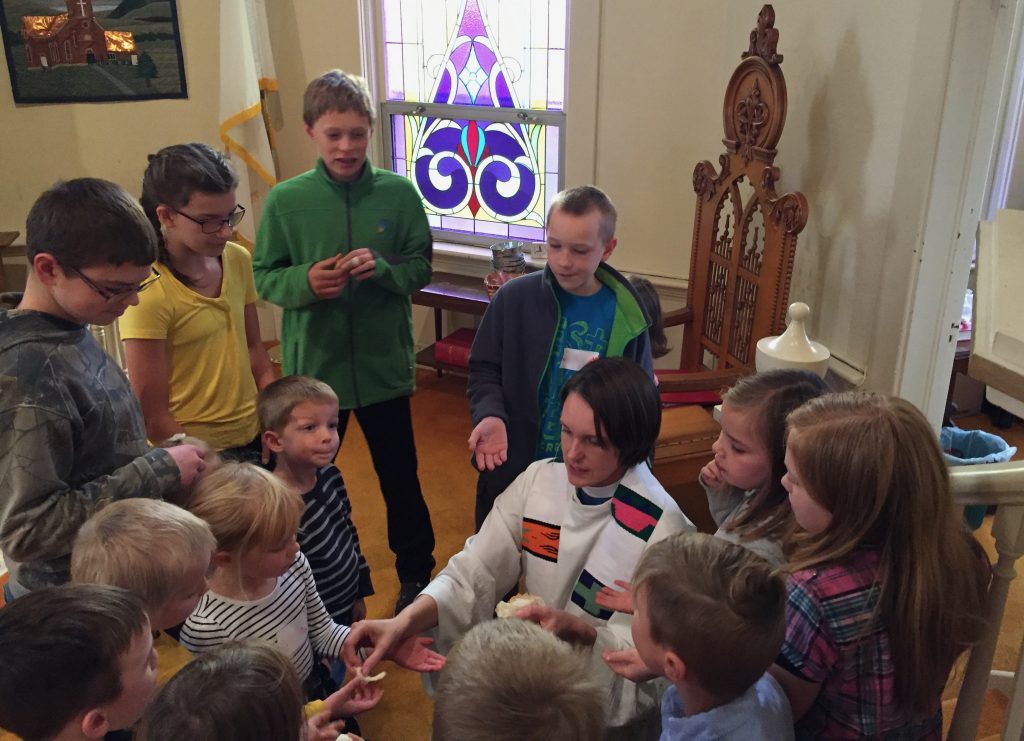 You may be thinking, as I was, that there might be an inherent bias towards congregational ministries among pastors. The thing is, we also asked about confirmation ministries and high school youth group. About half of ministers indicated that each of these was very or extremely important for their faith formation (respectable, but WAY lower than Sunday school). I was a congregational youth minister for several years, and this shocked me. How could childhood ministries like Sunday school and VBS possibly be more influential than youth group? There must be a catch.
I decided to focus in on the respondents that were most involved in youth group, those who said they attended multiple times per month or weekly (a remarkable 68% of all respondents). Foiled again! Among this subgroup of uber-involved youth groupers, there were still significantly more who said childhood congregational experiences like Sunday school and VBS were very or extremely important to their faith formation (78%) than those who said the same about youth group (66%). Even for the most highly involved youth, Sunday school wins out!
Okay, camp, don't let me down! It turns out that Sunday school blows overnight camp out of the water. Considering only those who attended overnight camp, 77% said Sunday school/VBS was very or extremely important to faith formation, compared with only 53% saying the same about camp. The percentage goes up the more times a person attended camp, but so does their perceived importance of Sunday school. The two are tied together! Only respondents with the highly immersive experience of working on summer camp staff had camp experiences that rivaled Sunday school in terms of importance for faith formation.
These childhood congregational experiences are clearly foundational to faith formation and call story. Because they are so influential and ubiquitous, they are the most significant factors for faith formation and call to ministry measured in the survey.
I wish we had asked more questions. I wish we had asked about curriculum and Sunday school models. Alas, we were focused mainly on summer camp. I am not going to stop focusing on summer camp, especially since this survey clearly shows its tremendous impacts on faith formation and call to ministry. As a church, though, we might want to focus more time and attention on childhood ministries in the congregation. There must be a reason that the biggest church nerds among us still look back on their childhood experiences as the most influential for their faith formation and call to ministry. We can continue to resource these other important ministries, but let's make sure we also focus on the most influential ministry space.