The Christian camp experience depends on congregational support and recognition. If church leaders are skeptical of camp's benefits or ministry methods, they will be less supportive. This has two critical impacts. First, it means fewer people experience camp, since the congregation is one of the main conduits to camping ministry. Second, it means that young people who have positive camp experiences have less reinforcement when they return home. We need church leaders who recognize the potential power of the camp experience and see camp leaders as partners in ministry. This partnership strengthens both camp and congregation. It facilitates the spread of the Gospel message, strengthens discipleship, and raises up leaders in the church.
I have encountered numerous ministers who are enthusiastic supporters of camping ministry. However, I have also encountered those who are skeptical or even hostile towards camp. Until now, I had only anecdotal evidence for how widespread these viewpoints were in my own church tradition, the Evangelical Lutheran Church in America (ELCA).
At the end of 2020, we surveyed more than 3,000 ministers in the ELCA to assess how personal camp experiences fit in with their faith formation and call to ministry (more on the project here). We also wanted to know what they thought of camping ministry. One simple question we asked was for respondents to summarize their impressions of Lutheran outdoor ministries in 2 or 3 words. The word cloud below is a visual representation of these responses, with larger words being used more frequently.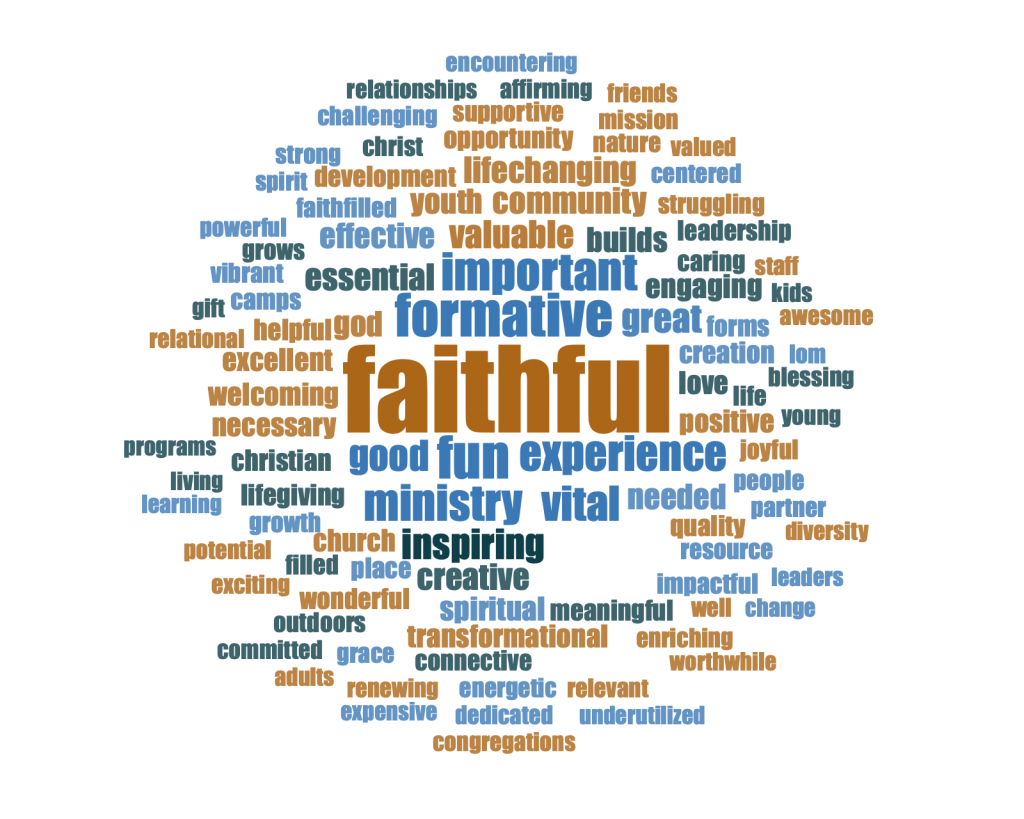 You can see that the responses were overwhelmingly complimentary! The most frequently used word was "faith/faithful," followed by formative, fun, important, and ministry. I would be hard-pressed to describe it more positively using my own words. These descriptions reflect the dominant perspective of camping ministries in the ELCA. Camps are widely perceived as vitally important partners in ministry. Church leaders at the local and national level (including the presiding bishop, Elizabeth Eaton) speak well of camp and unashamedly promote outdoor ministries.
This did not happen by accident.
How Lutherans Emphasize Partnership
Lutheran Outdoor Ministries (LOM) has a network of camps throughout the country that prioritize partnership. Camp leaders have spent decades nurturing congregational relationships and cultivating goodwill among their ministry colleagues. This is clear in the most recent survey of OMC camp directors. Over three-quarters of LOM camp directors consider the task of strengthening/supporting congregations as very or extremely important, compared with less than half of their colleagues from other denominational camps.
LOM camps offer programs designed to enhance the ministries of congregations directly. Two key examples are confirmation camp and traveling day camp. These programs are rare in camps affiliated with other denominations, but they are widespread across the LOM network. There is a reason that our research team has spent time and resources studying these two programs. They offer direct links between camp and congregation. These connections bring more kids to camp. Over a quarter (28%) of ELCA ministers serving in congregations require their confirmation students to attend camp at least once, and two-thirds (66%) say their congregation financially sponsors children and youth to attend camp programs.
Another key factor is that ELCA church leaders feel welcome at camp. Over two-thirds (70%) of LOM camps indicate that they invite clergy to stay at camp while their congregants attend. Many have housing units dedicated to visiting church leaders, a practice rare at other camps. Only a quarter (27%) of camps from other denominations invite clergy to stay while their congregants are present. The impacts are clear among ELCA ministers. A remarkable 84% agree that they feel welcome to participate and become involved with the ministries of their local camp. More than half (52%) of ELCA ministers serving in a congregation visit their local camp at least once a year.
Decades of close partnership fuel the mutual regard and raise up new church leaders who are passionate about camping ministry. Camp experiences among ELCA ministers are widespread and impactful. Two-thirds (64%) of survey respondents attended overnight Christian summer camp at least once, and a third (34%) served on summer camp staff. All told, nearly half (49%) of all ELCA rostered ministers agreed that their camp experiences were instrumental in their call to rostered ministry.
No wonder positive views of camp are so widespread!
3 Categories of Church Leader Engagement
But this is not the whole story. Not all church leaders see camping ministry as vital or even necessary. In fact, some (5% in our survey) think that camp is an old model of ministry that has outlived its usefulness. Others are less explicitly critical of camp and can be more appropriately described as skeptical. They use different words to summarize camping ministries: good, struggling, expensive, and irrelevant. Where are these words in the above word cloud, which looks so positive? The answer is that they are drowned out by the more dominant perspectives. But we need to hear this minority perspective, as well, since around 18% of all survey respondents can be categorized as camp skeptics.
They may feel shouted down by the camp enthusiasts, who are more than twice as numerous in the ELCA (39% of survey respondents). These are the folks who not only believe in the potential of the camp model but are also actively involved in their local camping ministries and give of their time (and usually money) to support camp.
In the middle of the camp enthusiasts and the skeptics are a third group that is a little trickier to define. They might acknowledge camp's power but are not actively involved. They might recognize that others are excited about camp and even show up sometimes but do not go out of their way to support the ministries. We might consider these folks camp accommodators, and they represent the remaining 43% of survey respondents.
In the subsequent posts, we will take a look at each of these three groups, and you can read about them here: camp enthusiasts, accommodators, and skeptics). We will consider how they came to these perspectives and what are the implications for both camp and congregational ministries.
For now, we can celebrate the widespread appreciation that camp enjoys among church leaders in the ELCA.