There was a collective gasp in the crowd, as everyone's attention focused immediately on our guest.
"This is Tulip," she announced affectionately.
Rarely have I seen a presenter so effectively capture their audience, especially when the audience consists primarily of squirrely elementary-aged children, not to mention a handful of teenagers and some young adult camp counselors.
Tulip was a skunk.
The presenter came from a local animal shelter that cared for and rehabilitated all sorts of God's creatures. She explained that Tulip no longer had her scent glands, so we need not fear being sprayed. She walked around, letting everyone pet Tulip. I eagerly awaited my turn, since in all my years of camping ministry, I had never gotten to pet a skunk. We also got to pet or interact with a bearded lizard, pot-bellied pig, rabbit, tortoise, and even a red fox!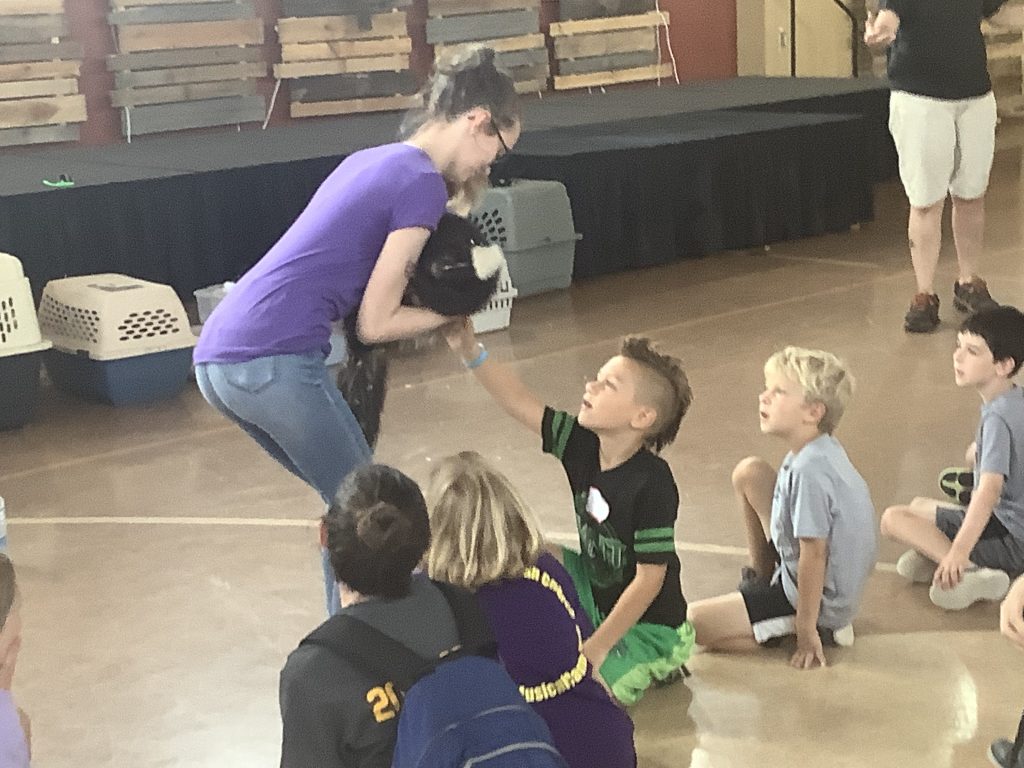 I was at Holy Cross Lutheran Church in Menomonee Falls, WI, a moderately affluent community in the northwest suburbs of Milwaukee. The congregation averages around 500 for weekly worship, and they engage around 100 kids weekly. Four camp counselors were here for the week from Crossways Camping Ministries to lead a traveling day camp program. Sue Christiaansen, the Minister of Children's Faith Formation at Holy Cross, indicated that the congregation has a long history of partnering with Crossways, including sending kids to summer camp each year and consistently hosting traveling day camp. She noted that day camp is not a replacement for vacation Bible school (VBS), which the church still runs earlier in the summer. She and other church volunteers indicated that they value day camp for its use of trained camp staff, its incorporation of nature/creation learning, and its appeal to upper elementary students, whereas VBS appealed mostly to early elementary.
It was the first full week of August, and several of the 43 day camp participants had been to Crossways earlier in the summer as overnight campers. Holy Cross also had a group of teenagers from the congregation who served as junior counselors, and they clearly looked up to the Crossways staff. One of them even got to reconnect with her summer camp cabin counselor, who had come as part of the day camp team.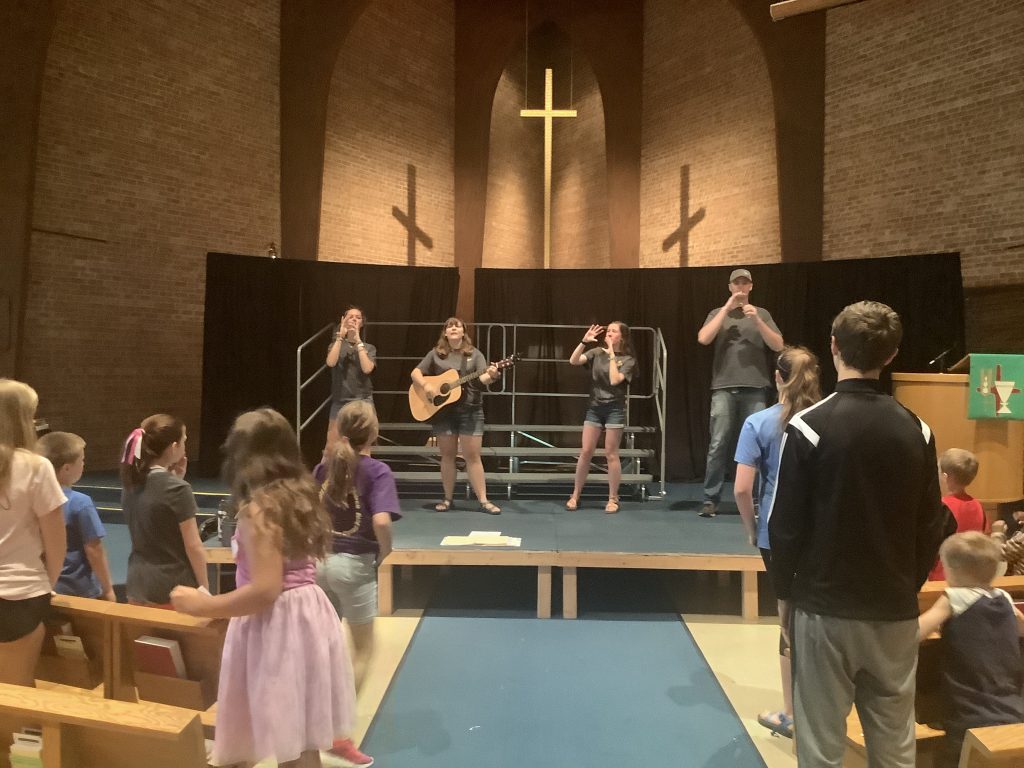 Day camp was a tremendous change of pace for the Crossways staff, all of whom had served at overnight camp throughout the summer in various roles that demanded round-the-clock attention and supervision of campers. They were all on their first week of day camp for the summer, providing opportunities to stay with a host family, receive home-cooked meals, and even explore entertainment options in the evening (one counselor expressed excitement at the possibility of stopping in at the Wisconsin State Fair). This was the last week of camp for some of them, and they were clearly exhausted from a long summer of demanding ministry. During times of unstructured free play, I often saw them sitting off to the side of the play area, while the campers buzzed excitedly around them. The lack of giddy-up in the staff did not seem to affect the camper's excitement and engagement. Sue reflected after camp, "God's love was shown in the kids who attended camp and in the junior counselors. I saw them all growing in their love and understanding of God."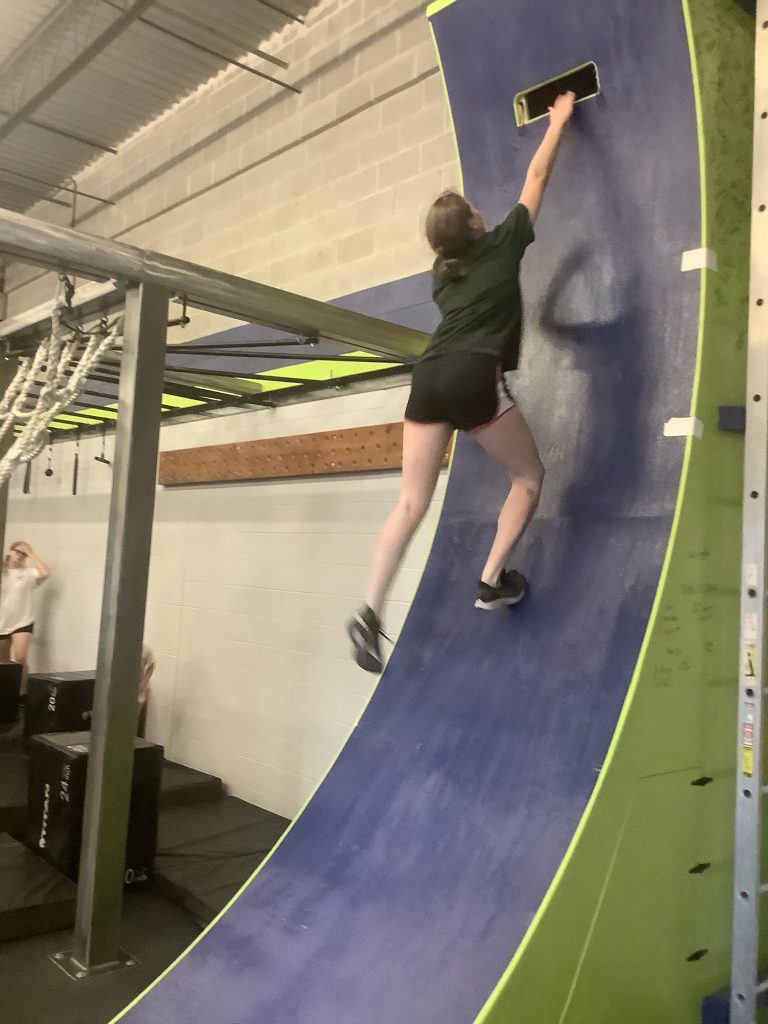 The Crossways staff were primarily responsible for morning programming from 9:00 to noon, along with a closing worship service before the campers were dismissed at 3:00. Each afternoon, Sue arranged for a special activity. The Crossways staff took part in these activities, but they were not responsible for leading them. In addition to the exciting time with the animals, I got to travel with the group to a local gym called Legendary Fitness, where we navigated parkour obstacles similar to those on the popular show American Ninja Warrior. Some of the most memorable moments involved attempts to conquer the warped wall. One of the junior counselors made it to the top, to raucous applause from the campers, and one of the young campers successfully made it to an alternate height on the wall, while his friends chanted enthusiastically, "Beat that wall!"
During these afternoon activities and the unstructured free play time, the junior counselors were the shining stars. I saw them giving piggyback rides, talking excitedly with the campers during lunchtime, and jumping in for the always competitive Gaga ball games in the gymnasium. When I asked the campers about what they thought of the counselors, they almost all gushed about how much they liked various junior counselors. While they also regarded the Crossways counselors positively, their key experiences and relationships were with the young volunteers from their own congregation. When I spoke with the junior counselors, they had nothing but positive things to say about the Crossways staff members. They saw them as mentors and inspirations, and several of them indicated a desire to be on staff someday. They had all been campers at overnight camp, and I realized that they were emulating the very best of what they had seen in Crossways staff members.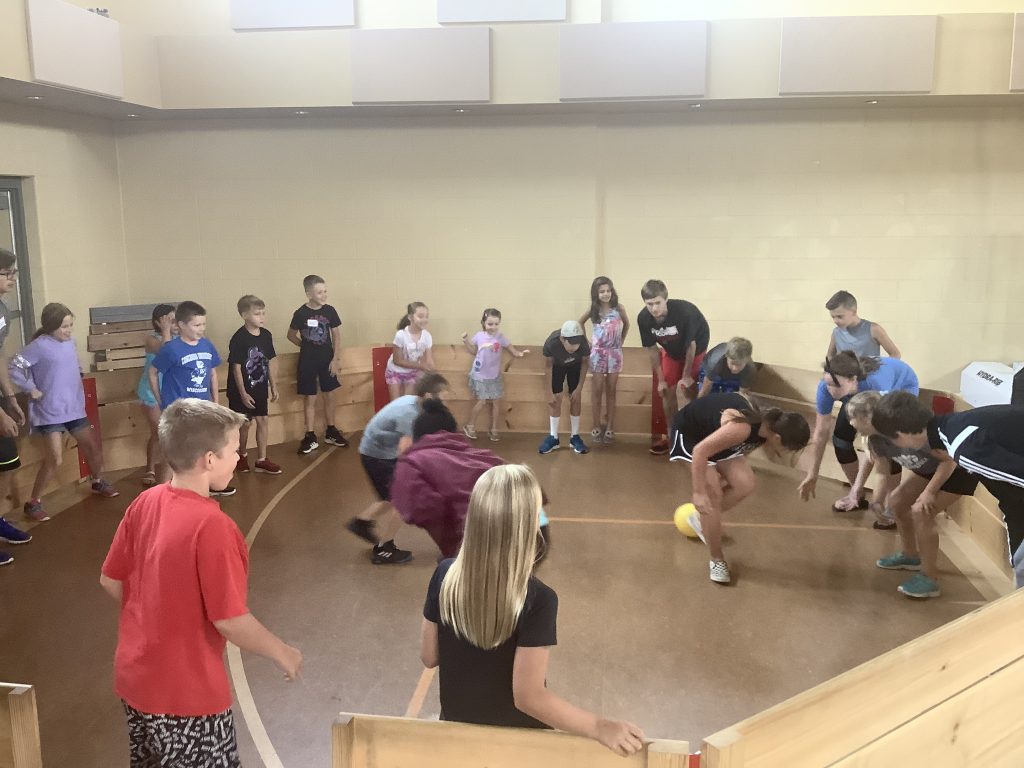 This demonstrated to me that day camp at Holy Cross was not primarily transactional. That is, they were not purchasing a program or paying for services as much as they were investing in a highly valued relationship. The partnership between the congregation and the camp transcended the week of day camp in ways that directly benefited the campers and the congregation as a whole. When the campers and junior counselors recognized Crossways staff members from their personal camp experiences, it didn't seem to matter how exhausted the staff were. The campers had a tangible presence from their time at camp, and they began reenacting those experiences within the walls of their home congregation. This connection between camp and congregation resulted in greater participation in other congregational ministries, as well. For example, Sue led an evening Christian education and fellowship time with the fourth and fifth graders on Tuesday night. She was very pleased at the turnout this week, noting that all but one of the attendees were day camp participants.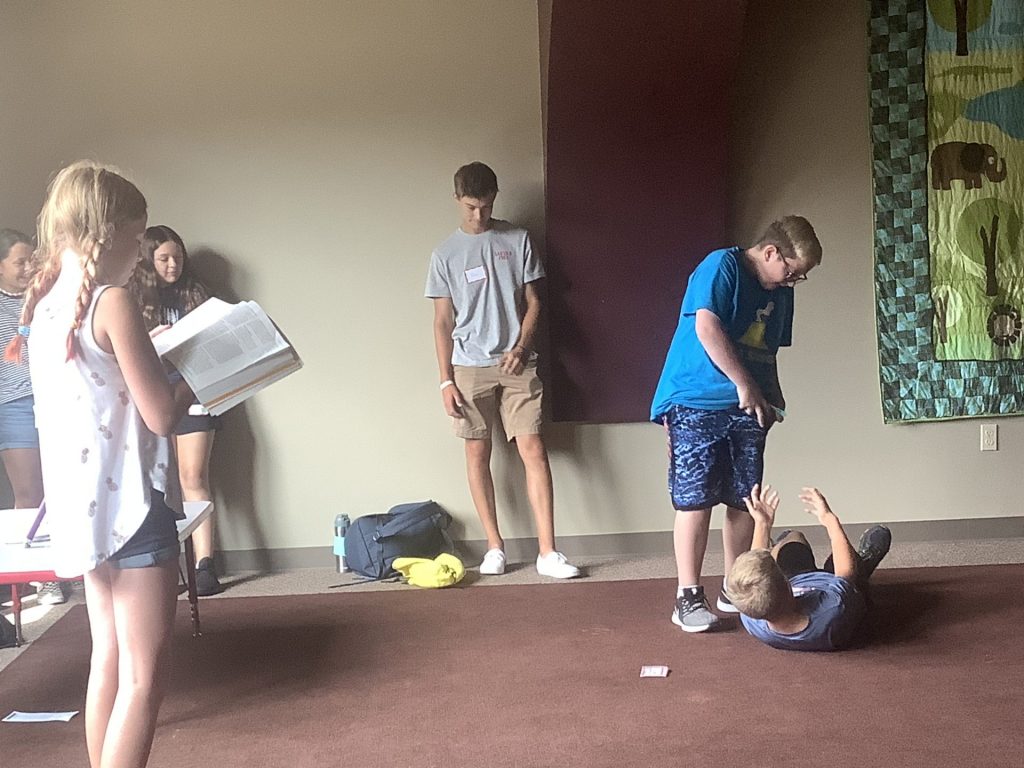 The excitement of the campers about all things related to Crossways even helped energize the weary camp staff. They led familiar skits, sometimes including the junior counselors, and they led songs from camp like Trumpet Sounds and Radical God, which many campers were able to sing along with on the first day because they knew them from camp. They led the campers in engaging Bible study lessons that included movement, interaction, games, and acting out the parables of Jesus for one another. They even led nature time in the church courtyard and made a nature-related craft called a flower bomb before learning about the importance of pollinators through a creative game. Through their physical presence and their camp-style curriculum, they brought camp to the congregation of Holy Cross.