The Oakwood/ Whitestone/SpringHill day camp is a collaborative partnership between three organizations. The camp is held at Oakwood Church in Hartland, WI, just west of Milwaukee. The Whitestone church is 15 minutes away. The communities surrounding these churches are middle to upper-middle class, predominantly white, with the greater Milwaukee economy accessible to them. Becci Terrell (Oakwood) and Jaime Meisner (Whitestone) serve as congregational leaders and both are full-time children's directors in their respective congregations. Brandon Congdon served as the SpringHill leader. Oakwood worships 650 people, and Whitestone worships 600. 117 children took part in day camp. The camp utilized 12 SpringHill staff, and 13 teenage counselors in training (CITs) from the congregation.
Having never seen a SpringHill day camp, I was incredibly impressed by the greeting campers and parents receive coming into the building. They run a gauntlet of high fives from CITs and staff. The music is blaring and the theme for the day is written on the sidewalk in chalk. The Monday registration process was incredibly efficient, with adult volunteers working the tables, including a medications table where parents could give guidance for their child's care. There is also a good "check-in/check-out" system that ensures campers leave with the correct adult.
Looking through the lens of brain science is a helpful way to understand how the SpringHill day camp works. The brain works from bottom to top, back to front and right to left. The brain starts with an emotional impression provided by visual stimulation. This is placed into a spatial/pre-verbal/autobiographical frame that ends up with a verbal output. SpringHill works this neural-physiological sequenced pathway well…for most campers. They receive a warm greeting and a communal hug providing them with an emotional sense of safety and well-being. This allows the camper, especially young ones, to be open to explore further, see the imagery of the spaces, hear the music and express excitement (often through laughing, dancing, jumping and running around) and verbal appreciation. SpringHill nailed this science to the benefit of moving the camper towards their programmatic goals.
However, because the brain starts with an emotional impression, the SpringHill approach can also create another reaction in quiet or introverted campers. The amygdala of the brain is the fight-flight-freeze emotional decision-maker, through which all external stimuli must pass. For many children, their brains could be over-stimulated and the camper would experience the day camp as scary, noisy, or threatening. This is where greater flexibility in their approach could be beneficial. The lack of quiet places, quiet play, and age-appropriate (especially pre-school) activity could use a review. SpringHill works to balance this with caring staff, attention to campers who are sensitive to loud noises (offering sound-canceling earphones, for example), and special inclusion counselors, who work with campers that need special one-on-one attention. I saw one caring staff member (Katie) show particular sensitivity to an over-alerted amygdala that resided in a little boy who did not want to leave his mother. Katie met him every day, walked him to his class, and delivered him back to his mother at the end. "It's about loving them as they are," she commented. Bravo and Amen.
Programmatically, SpringHill uses intriguing and exciting figures, especially the clever costume of a kangaroo in their recurring skit, which the children saw portions of each day. The children loved the characters and had fun watching their story unfold throughout the week. The program uses all the senses for purposes of learning. This is evident with the memory verse, incorporating body motions with the visual and audio cues to help campers memorize Isaiah 40:29-31. The large group sessions are not too long, every song comes with actions and a good sound track, and a clever motivator called "Spirit Dyno" helps reinforce good behavior.
The SpringHill apparatus provide an amazing variety of activities and opportunities. There is a great balance between hot, sweaty stuff and water activities. Many of the activities feature large, expensive apparatus, such as the climbing wall, euro bungee, and inflatable obstacle course. I noticed that they also utilize a number of shooting games. They shoot arrows, marshmallows, wave sabers, do target shooting with paint ball markers, etc. This wide assortment of shooting games struck me as a strange choice, given their goals and outcomes for the week. For example, I asked one counselor who was leading a charge of some kind what he was doing and he said, "Going to war, basically." Given all the alternative adventure games that they could add to their adventure programming, it seemed odd to me that so many violence-based activities were chosen. I wondered how these games fit into their themes of love, community building, and the Gospel message.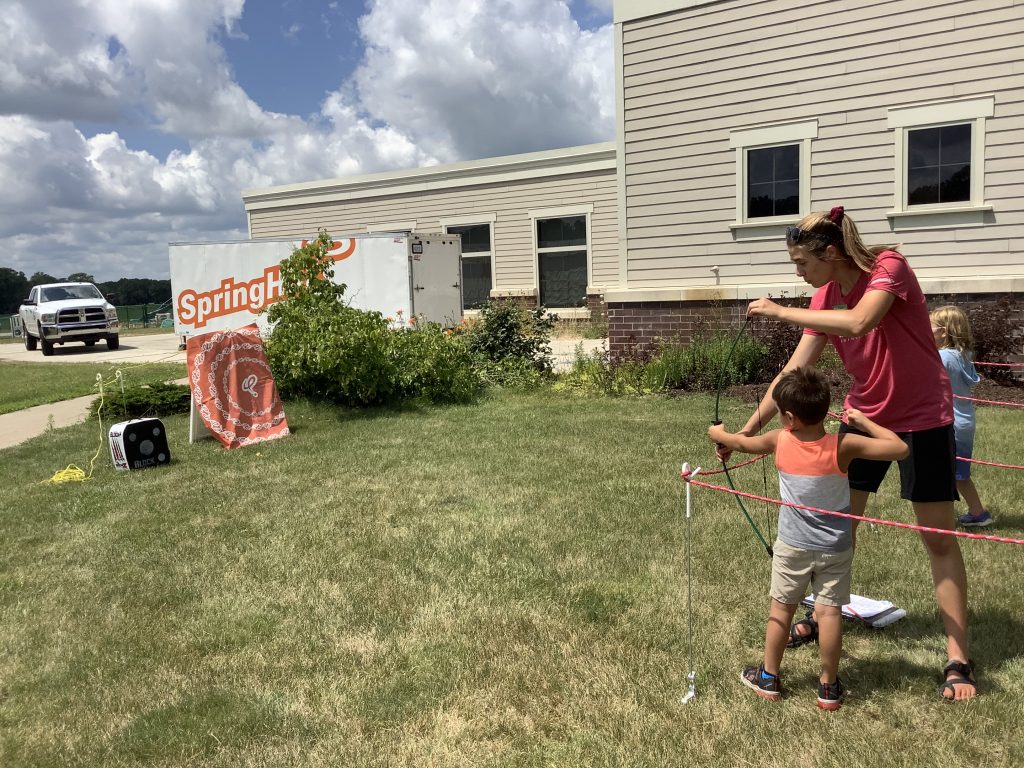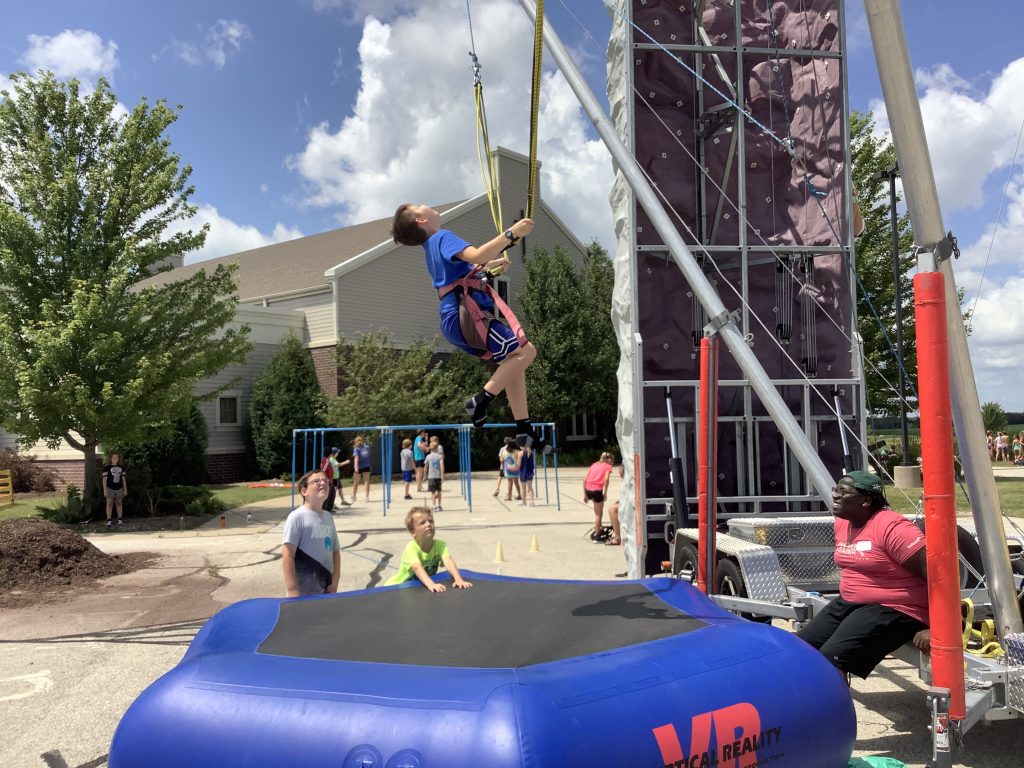 Theologically, the goal of the week is to lead campers toward making a decision for Christ, progressing through the story of God's plan, humanity's sin, and Christ's sacrifice, ultimately offering campers the opportunity to make a personal commitment in their small groups. Brandon commented, "It's just about the salvation thing." He noted they try not to get into much else because there are many theological issues that are divisive. I would be interested to know how SpringHill has concluded that there is such a thing as theological neutral ground. I also wondered about this stance when I noticed things that could be better framed theologically, like the shooting games and care for God's creation. I was surprised that SpringHill did not intentionally engage the environment or natural world. I noticed that they did not exercise stewardship of resources by encouraging recycling, discouraging the children from throwing away food, or even making sure to pick up their litter. There was even an incredible moment to engage nature in a unique way when a pair of beautiful sandhill cranes stood right outside the front doors to the church. It was a little comical, but also disappointing, when the SpringHill staff turned and ran away in terror rather than have the campers stop to observe and appreciate these wonders of God's creation. These are examples of ways that SpringHill might better engage the biblical witness in their programs, since what they are teaching children through their actions is not theologically neutral. Remember, the emotional and visual impressions are the first inputs the brain registers, and they tend to supersede what we might say.
There is much to praise and applaud in this day camp program. And I've tried to identify some growing edges for the organizations to reflect upon. Hopefully, this appreciative inquiry will trigger both celebration and further discussion.