"Merry Christmas, everyone!"
A cheer went up from the gathering of 180 elementary-aged campers and 24 SpringHill camp staff members as the snow floated down from the sky. It was late June, and the heat index was near 100 degrees in the Indianapolis suburbs, but that was not going to deter Joe and Luke, who had been planning the spectacle all week. They found two working snow machines and an artificial Christmas tree, but the enthusiasm was real.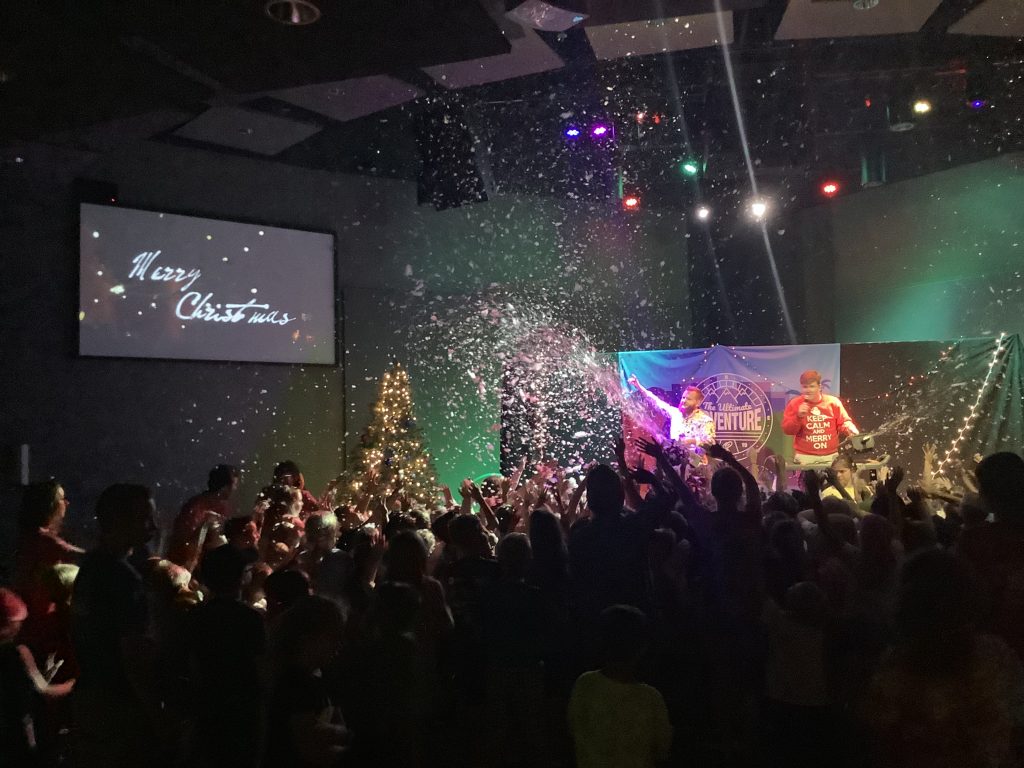 Luke grew up at Kingsway Christian Church and had his faith formed through the church's discipleship ministries. He was planning to attend Moody Bible College in fall 2019 to pursue his calling to professional ministry. He noted his love for working with young people, particularly in the large group setting. Joe was the Kid's Pastor at Kingsway, responsible for the ministries with young people up to grade 4. He had been in the position for less than three months as of June 2019, but the kids were already getting to know him. He greeted families as they arrived, made frequent appearances on the large group stage, and handed out popsicles during water activities throughout the week.
Kingsway is located in the western Indianapolis suburb of Avon. For decades, the church shared the building with a well-regarded parochial school. In 2019, the school was considering expanding and purchasing the building from the church, meaning the church would relocate. Staff members indicated that sharing the buildings and spaces for multiple uses can lead to friction and misunderstandings, which may have been partially responsible for a recent decline in church attendance. Both parties were open to the possibility of the move and the win it could present for both organizations. In spite of recent declines, weekly worship attendance was still over 2000 at the time of the site visit, with over a quarter of that number children and youth.
"Luke and Joe are so funny!" one boy exclaimed, as he described what he liked about day camp.
The Christmas party was all spectacle. The songs they played and sang along to were secular, including Rudolph the Red Nosed Reindeer and Let it Go. It was designed to be highly energetic and fun so that kids would want to come back. They hoped that, by being on stage every day, they would provide continuity between day camp and the year-round ministries of Kingsway. They made a point to invite the campers back for Kingsway Kids, which met weekly, and they gave special gift bags to camp participants who were not regular Kingsway attendees. They encouraged campers to make a special effort of attending church that coming Sunday in order to see Joe get pied in the face.
SpringHill staffers were not accustomed to sharing the stage in this way. Usually, they are the spectacle. SpringHill runs day camp on an epic scale, bringing dozens of staff members to each site, along with big-ticket apparatus like a climbing wall, Euro-bungee, rope ladder, giant's swing, archery equipment, and large inflatables. They bring small group Bible study curriculum and a well-scripted, highly produced large group experience that includes videos, music, and a live-action skit. They also have plenty of program elements that, like the Christmas party, are designed to be silly, high-energy fun. As the campers travel from activity to activity, their group might be heard chanting, "Tarzan! Swinging from a rubber band!" or some other nonsensical song. They bring this identical program, including the large apparatus, to well over a hundred congregations in 10 states over the course of the summer.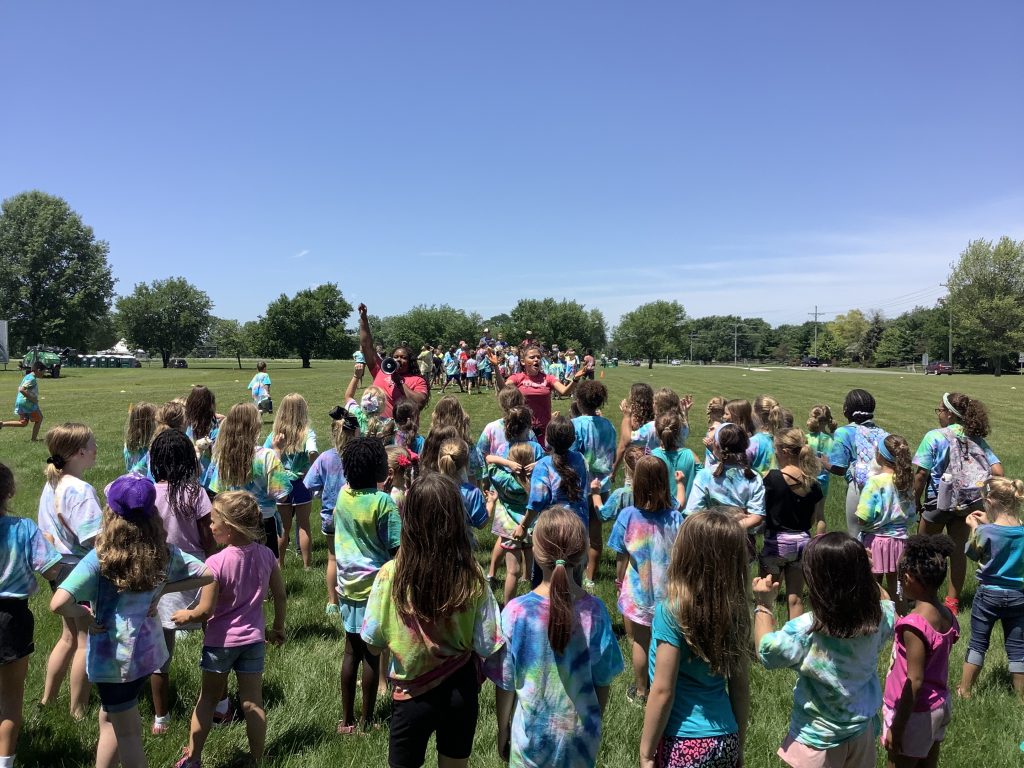 In most places, the congregation is happy to step back and let SpringHill take over their building for the week, so the staff are accustomed to doing everything. But Kingsway has always wanted a larger role in the program, which has caused friction in the partnership. Kingsway staff members acknowledged that SpringHill responded to their feedback from past years, so the shared ministry has gotten better from their perspective (including their staff members given important roles during large group time), but each new SpringHill staff finds itself learning anew that Kingsway has different expectations than most other congregations.
The frustrations go beyond large group time. Kingsway staff members pointed out other simple ways that they could more effectively partner, like knowing the large group worship songs in advance so they could teach them to the kids or knowing the Bible study theme so that they might fit it in with their weekly curriculum. As it was, Kingsway Kids were in the middle of a lesson series on Proverbs, but the week of SpringHill focused on the Moses story.
One of the most intentional ways that SpringHill includes congregations in programming is through the counselor in training (CIT) program. Teenagers in a congregation typically serve as CITs and help with small group time. At Kingsway, where teenagers often have important leadership roles, the CITs were disillusioned by the lack of agency they felt at day camp. Luke was a CIT during a year when the teenagers felt particularly disempowered, and this experience effectively crippled the program at Kingsway. During our site visit, there were only 4 CITs, far fewer than SpringHill needed to help facilitate small group time during adventure activities like the climbing wall, when SpringHill staffers were busy harnessing and belaying campers.
To make matters more challenging, SpringHill was short-staffed, so small groups were much larger than they wanted. Individual day camp teams are typically together for the entire summer, but SpringHill staff members had been pulled from multiple teams for the Kingsway day camp, meaning they were getting to know one another as well as the campers and the unique congregational expectations. Through it all, the staff showed remarkable resiliency.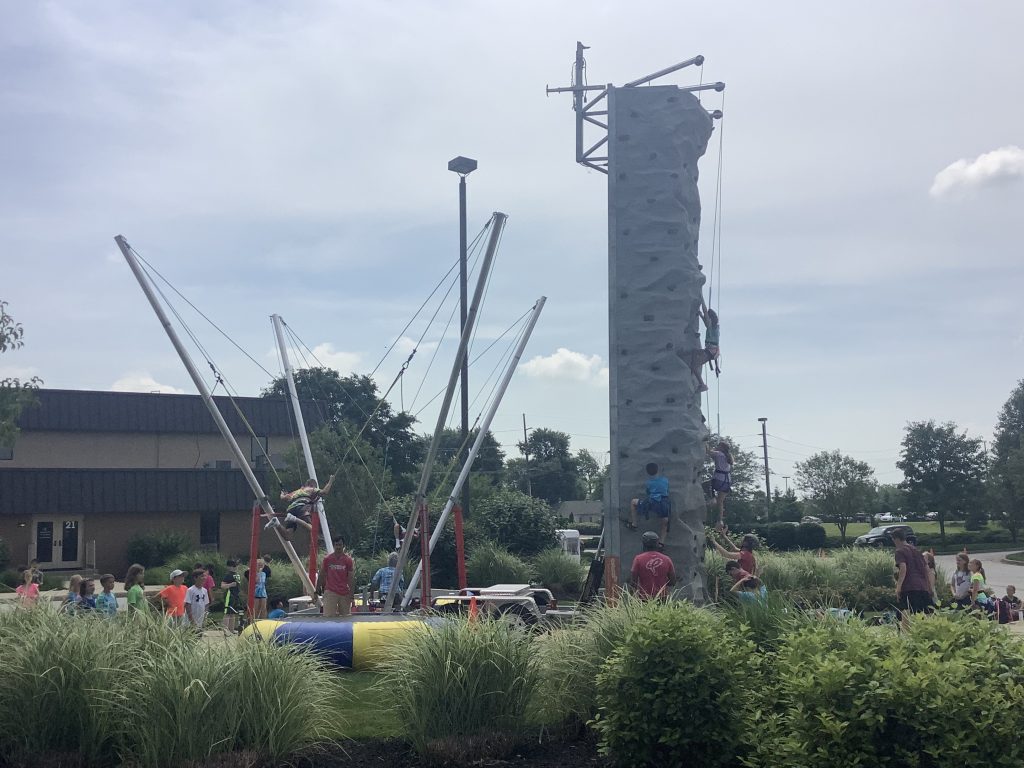 It was clear that the greatest assets of the SpringHill experience were not the apparatus and high-energy activities but, rather, the young adult staff members who travel from congregation to congregation throughout the summer. These passionate young people yearn to share their faith with the campers and build relationships with them. They see day camp as much more than spectacle or simple fun and games. Many experienced day camp as children, and they remember it as highly impactful in their faith journey, with some recounting that they made commitments to Christ as day camp participants. Some even suggested that day camp can be more impactful than a weeklong overnight camp experience, in large part because of the faith continuity provided in the congregational setting. They see their ministry as directly impacting the faith of campers, while the Kingsway staff members seemed to operate under a different paradigm of day camp as a gimmick serving as a doorway to other ministries where faith was formed. Getting past the sheer spectacle of the experience, there was evidence for direct impacts that the staff were hoping for.
Parents indicated that one of the most impactful things that SpringHill does for their children is to identify special character traits that they see in them. On Thursday evening, the SpringHill staff gathered with stacks of cards featuring dozens of Christian character traits. Their task was to award each camper in their small group with a special trait that they identified in them. The staff took this very seriously.
"She shared her snack with another camper today, and that was so sweet."

"Yeah, and she shared earlier in the week, too. I think she should get 'generosity.'"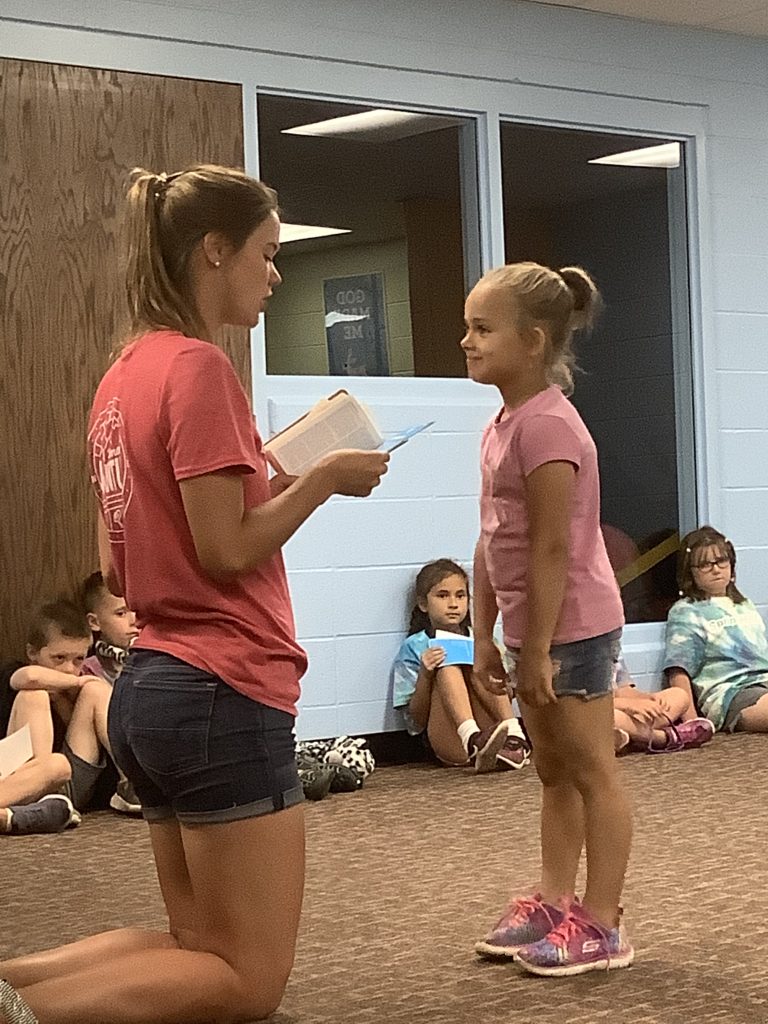 Each card had a Christian character trait (e.g. generosity, compassion, and perseverance), along with a description and a Bible passage. Staff members presented these traits to their campers in their small group gatherings with the parents there to hear the stories of how each character trait was chosen. While staff mentioned disappointingly that some kids simply discarded their traits in the nearest trash can, multiple parents described their children saving these throughout the year and even posting them in prominent places in their bedrooms.
Each morning, SpringHill staff members gathered at Kingsway at 7:00 AM for morning devotions. They spent time in Bible study and prayer before they bustled about prepping the program areas for the coming day. Then they had a staff meeting, where they went over specifics for the day. It was Friday morning, the last day of camp, and a leadership staff member was explaining the gift bags that Joe and his staff wanted distributed to the campers who did not regularly attend Kingsway.
"I know it's an extra thing to do on a busy day, but it's really important," she said. "That's the main reason we're here: to connect the community to the church."
This understanding of shared ministry was what the Kingsway staff continued to negotiate with SpringHill. Everyone understood the importance of sharing the ministry, and they were working to figure out how this might look on the ground at Kingsway.