"Here, let me help you."
My tour guide was an 8-year-old girl that I had gotten to talk with during lunch. She was a camp pro, in her fourth summer at SpringHill Day Camp, and she was guiding me through the essential camp ritual of tie-dying. Everyone colors a t-shirt on Tie-Dye Tuesday. At Granger Community Church, this meant that 300 participants were efficiently shepherded through the process. A small group of campers gathered to help me choose my design (a spiral) and my colors (red and blue). Many of the campers wore their completed tie-dye shirts to camp on Friday, and they would also proudly wear them on Sundays during the year, a visual reminder of the camp experience for the entire congregation. This is one small way that the colorful day camp experience bleeds into the life of the larger congregation at Granger, but it is far from the only one.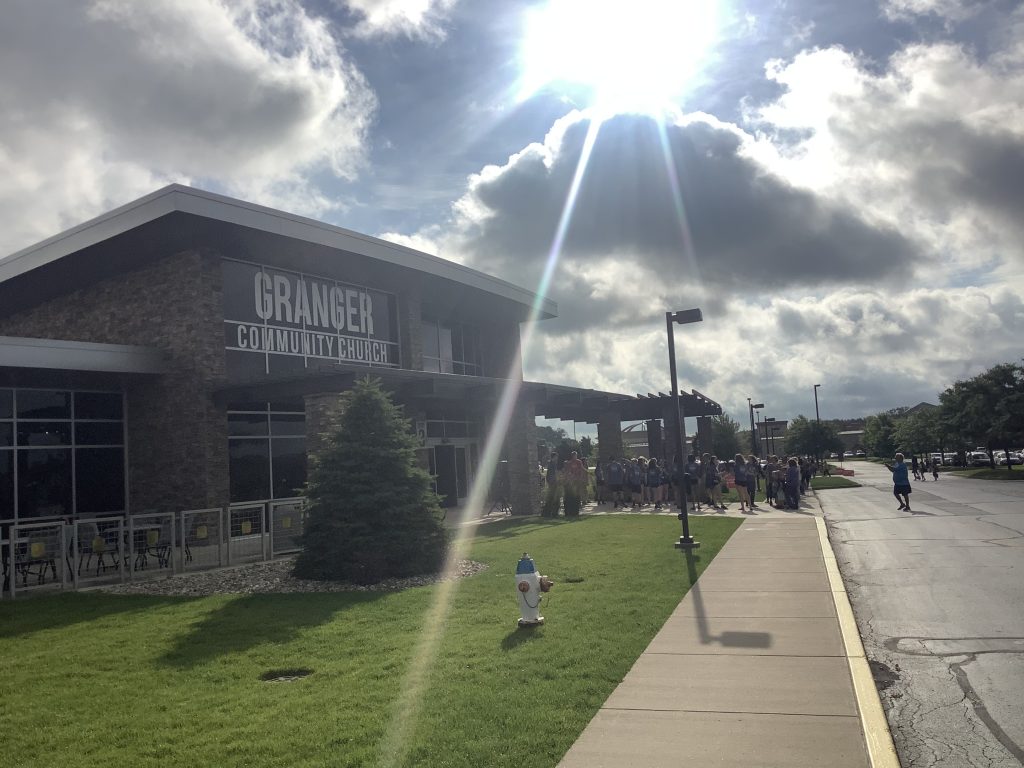 Granger Community Church is located in north-central Indiana, just east of South Bend. The median household income of Granger was hovering around $100,000 in 2019, more than double that of nearby South Bend, Elkhart, and Mishawaka. The affluence was apparent in the church building and grounds, which were beautifully maintained and modernized. The sprawling campus has large playing fields, a bird sanctuary, a large pond (with nesting geese), a fenced-off playground, and mature hardwood trees. Upon entering the building, visitors are greeted in a spacious lobby, complete with a welcome center, tables and chairs spaced invitingly, a book store featuring Christian paraphernalia, a coffee shop (from which I enjoyed a delicious chai latte), and an open Wi-Fi signal. Most of the Christian education classrooms are in the lower level, easily accessible via multiple stairways or two colorful tube slides. Throughout the week, facility care staff were busy cleaning and picking up after the throng of young people.
With a campus the size of Granger's, which hosts more than 4,000 people for worship each week, day camp could be cordoned off to certain areas, and it could conceivably happen without most of the congregation knowing. But this was not how Granger operated. SpringHill was given full use of the facilities, including the worship space. Day Camp has become so popular that Granger hosts it for two weeks, with 300 participants and around 40 SpringHill staff each week. This meant that on two consecutive Sunday mornings, congregation members helped stack over a thousand chairs after the worship service. The worship area was divided into three sections: the center area for large group gatherings and the two wings for high adventure activities like the giant's swing. Everyone knew that SpringHill was happening, and it wasn't just the tie-dye.
The congregation gathered a special offering in December, raising more than $17,500 for camp scholarships. Jen Harrel, Director of the Granger Kids program, explained that they want every child to have the opportunity to attend camp. Every family that asks receives a scholarship. Jen is passionate about camp because she has seen the impacts it can have on participants, and she personally had impactful experiences as a camper and staff person. When the doors opened for day camp each morning, she was out front greeting the long line of parents and kids. The pastoral leadership highly values camp, too, she said, in large part because they had powerful and faith forming camp experiences when they were younger.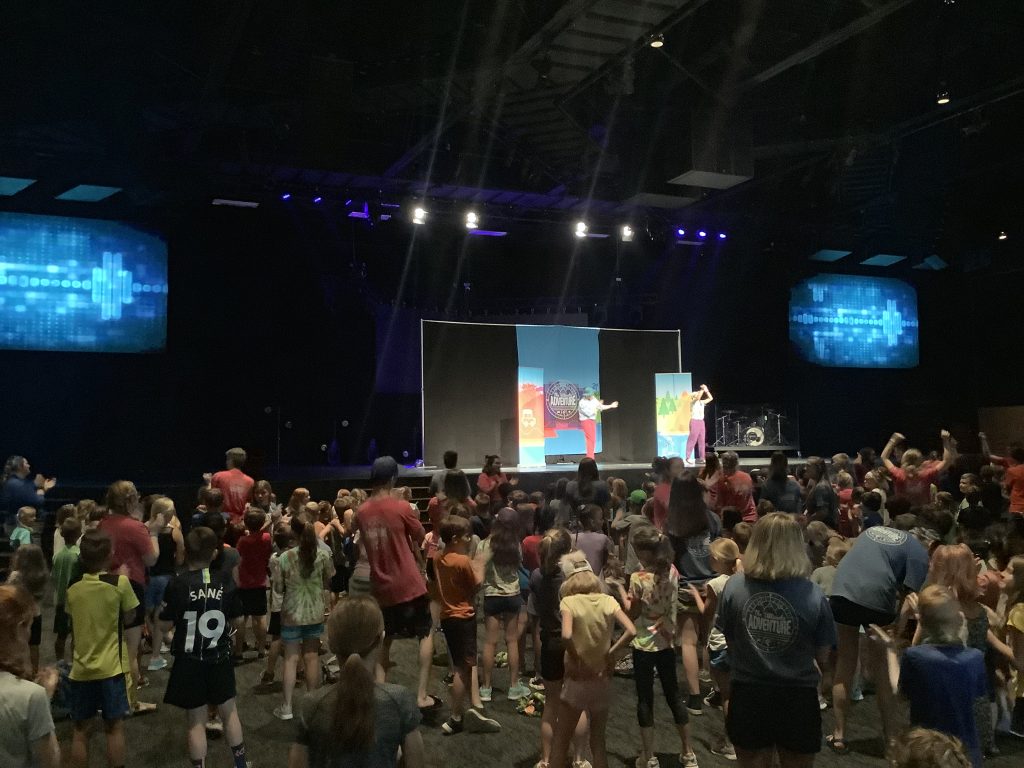 Camp is an essential part of the educational ministries at Granger. Elementary students participate in SpringHill Day Camp, while the middle schoolers travel to SpringHill's overnight camp in Michigan for a week, during which Granger fills the whole camp. High schoolers have multiple opportunities for camp participation, including volunteering at day camp as a counselor in training (CIT).
In many ways, the CIT program is the central component of day camp at Granger and indicative of its success. One or two CITs were assigned to each camper group to help facilitate a positive experience for the participants. Because the SpringHill experience is heavily focused on high adventure activities, SpringHill staff members were occupied with harnessing, belaying, and spotting the campers in order to keep them physically safe. Meanwhile, the other campers waited their turn for the activity, sometimes for as long as an hour. The CITs ensured that campers felt included and had fun during these times. They engaged campers in conversations and led what they called "Games with a Purpose" (or "GWAPS"). They were especially important this week at Granger, since SpringHill was understaffed. Though SpringHill likes to have one staff member for every eight campers in a small group, this week the ratio was less than 1:11, making CITs essential for program quality.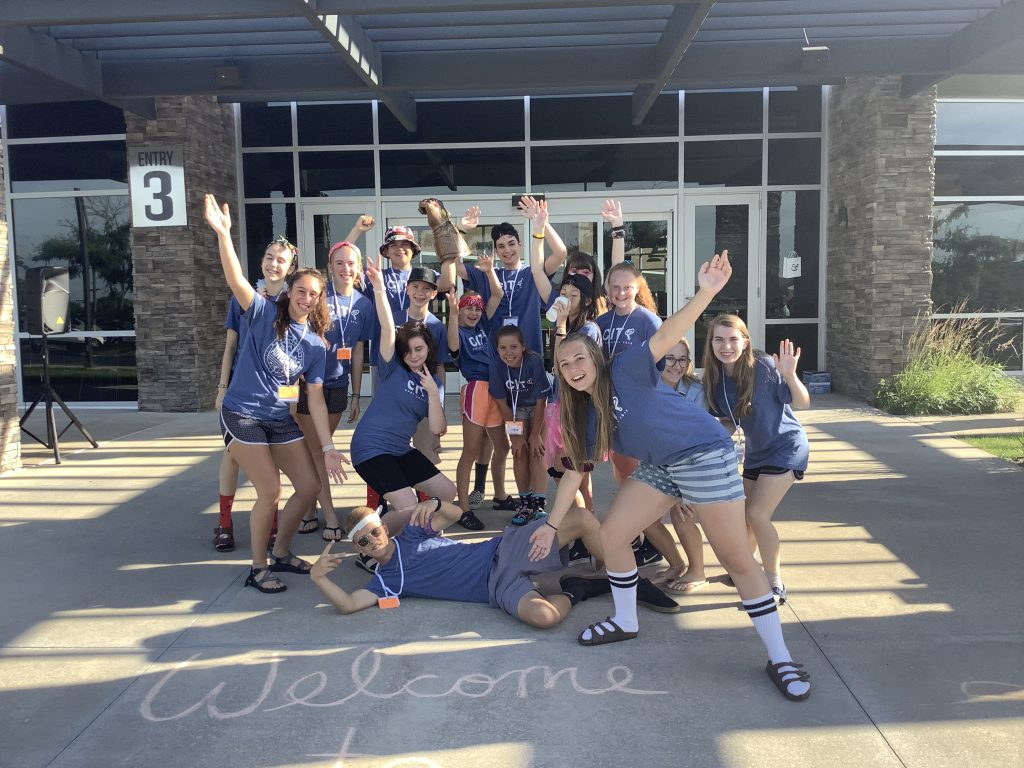 Twenty high school youth were volunteering as CITs during my visit to Granger, and others had served the previous week. In fact, several of the CITs from the first week of day camp were no longer volunteering because they were hired to fill gaps in the shorthanded SpringHill staff. Every CIT that I spoke with had been a day camp participant, and many spoke of how impactful the experience was. They said that involvement in day camp helped them take the next step in their faith and get their entire family more involved in the congregation. They recounted stories from when they were elementary age of their own CITs and how they maintained contact with them throughout the year. From their perspective, this ongoing relationship was crucial. One pointed out, "We get to stay here and continue building those relationships, while the counselors only stay here for a week or two weeks."
They not only saw the campers week after week throughout the year. Many of the CITs also volunteered as leaders in Granger Student Movement (GSM), the ongoing Christian education ministry of the congregation. Their leadership provided continuity for the campers, connecting the high-energy day camp experience with year-round ministry.
The CIT program also served as another stepping stone in the faith journey of Granger's young people. Some of the CITs began day camp as kindergartners. This helped them get more involved with their congregation, and they continued their growth through overnight camp experiences at SpringHill. Now they were serving as leaders in both the CIT program and GSM, supplementing these experiences through weekly worship and mission trips. Many of them saw the next step as working on paid SpringHill staff, as many of their fellow CITs had done.
Day camp at Granger is not seen as a singular experience. It is one step in a much larger journey of faith. As the congregation's mission statement says, "Helping people take their next steps toward Christ…together." Campers who were at Granger for the first time as part of SpringHill day camp were welcomed into the community and invited to participate in ongoing ministries. The excitement of SpringHill, with the energetic staff members and high adventure elements like the climbing wall, might serve as a doorway to the faith community.
But the camp experience is more than just high-energy, high-adventure activities. There is daily Bible study and worship, and faith reflection is intentionally incorporated into the entire experience. After each activity, SpringHill staff members debrief the experience with their campers, asking what they enjoyed, what they disliked, and where they saw God. There are some obvious faith metaphors with high-adventure activities where the kids are on belay and taking personal risks with heights, but I wondered how they would reflect on an activity like tie-dyeing.
"The white shirt is like our lives in sin," one third-grader reflected. "But then Jesus gives us color." I wondered at the profundity of this observation. The guilt metaphor usually involves humanity being stained and then being washed to a stainless white. She had turned the metaphor around. God's grace is found in the color, in the blending of one with another.
I looked around at the shouting, dancing, jumping children. It was a colorful picture, indeed. They came from different backgrounds and were at different points in their faith journey, but SpringHill and Granger were partnering to guide them in their next step of faith.