More than 5,000 summer campers have participated in the Effective Camp Project or Power of Camp Study over the past three years. On the last day of camp, 91% of these campers agreed that they were strengthened in their faith. Three months after camp, 83% of responding campers agreed that they felt more confident in themselves since returning home from camp, and 87% agreed that camp had a significant impact on their lives.
But what are the key factors of the camp experience that lead to growth in outcomes like Christian belief, faith relevance, and self-confidence? We are already familiar with the 5 fundamental characteristics of Christian summer camp. Now, let's get even more specific.
We used simple correlation coefficients to identify the factors that contributed to increased camper growth, and then we used a more complex form of analysis called logistic regression to isolate the factors that had the strongest independent effects on camper growth. There were four factors that were consistently impactful on all three of our growth indices, which measure vertical faith (belief), horizontal faith (faith relevance), and self-confidence:
Increased frequency of conversations with cabinmates about God and faith
Increased frequency of getting along well with the cabin group and counselor
Increased agreement of enjoying the cabin counselor/group leader
Increased agreement of trying something new at camp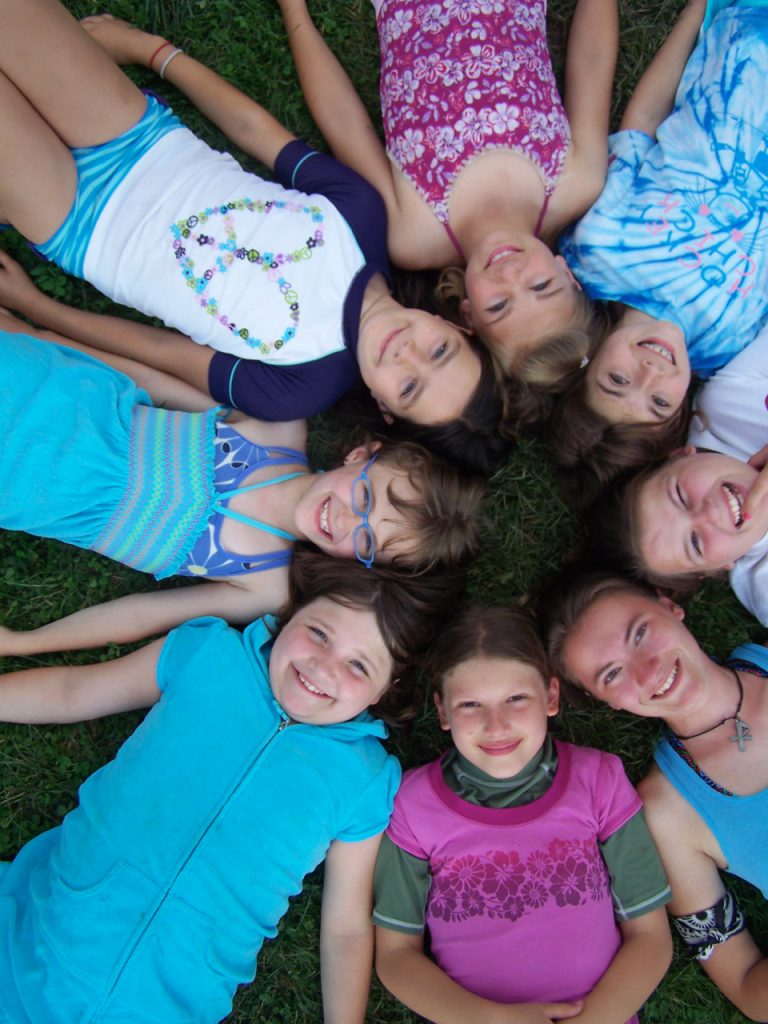 You will likely notice a few things right away. First of all, three of these four factors are directly related to the cabin community, specifically centering on the role of the counselor. Secondly, you will notice that these factors are strongly related to the 5 fundamental characteristics: relational (1-3), faith-centered (1), safe space (2), unplugged from home (4), and participatory (1 and 4). Third, you will notice that NONE of these factors have to do with large group experiences. Positive large group games contributed moderately to growth in self-confidence, and positive worship experiences contributed to vertical faith, but their impacts were overshadowed by the factors related to the cabin group.
Let's focus specifically on the importance of this small group cabin community, isolating the first three factors we identified. You can see in the figure below that as the number of key factors increases, so does the percentage of campers showing evidence for growth in each of our measurements.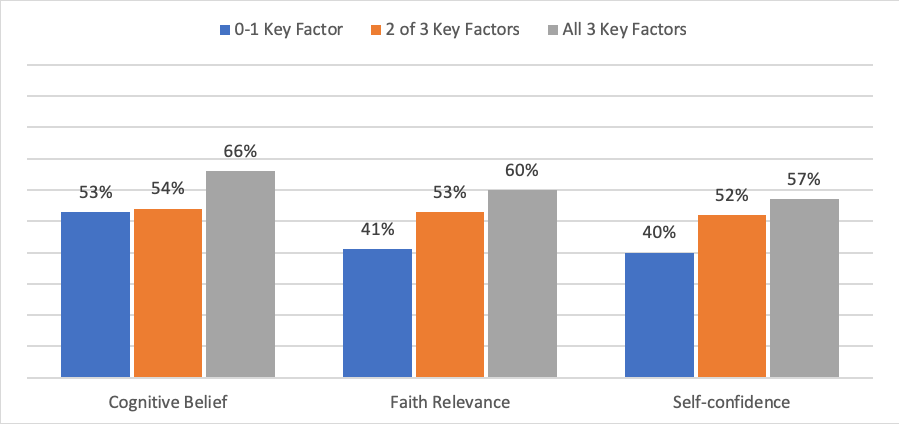 This growth was maintained in the three months following camp. Of those showing evidence for all three of the key small group factors, 53%strongly agreedthat camp helped them grow in self-confidence, compared with only 25% of those with one or none of these factors. The same was true for those strongly agreeing that they were strengthened in their faith (72% of those with 3 factors, 53% with 0-1).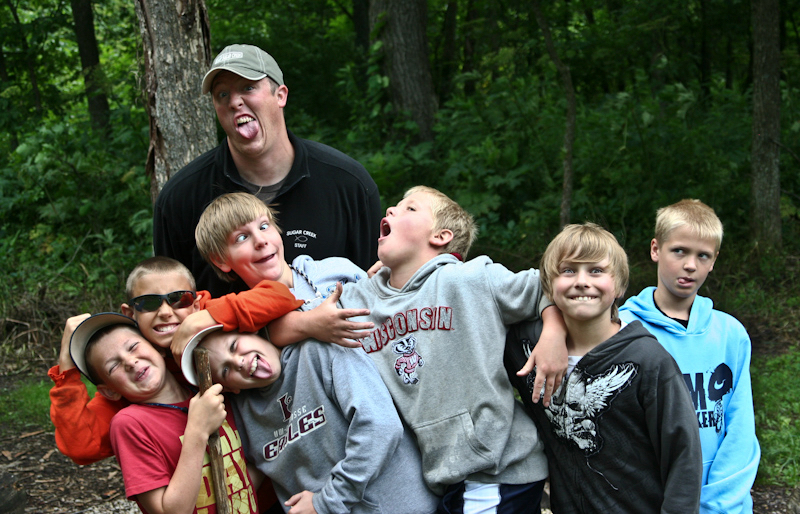 We in camping ministries often spend time, energy, and capital resources on things for the large group: dining halls, chapels, large group games, excellent large group speakers/preachers, etc. These investments are not inherently bad UNLESS they are at the expense of the more important aspects of camping ministry. The above findings of the Effective Camp Project remind us that the power of camp resides in the small group. One of the most effective things that we can train our camp counselors to do is facilitate conversations about God and faith. They do not have to be great theologians. In fact, it is better if they are not prone to pontificating or giving answers. We want facilitators and conversation starters who are able to let the campers work through things together. There are three ingredients that might contribute to the crucial conversations that lead to camper growth:
Build trust within the cabin community
Provide time and space for caring conversations to take place
Offer faith language with which to interpret life experiences.
You may remember a previous post about the high effectiveness of outdoor adventure camp programs. These experiences inherently include the first two of the above ingredients. Trust is built through mutual work and overcoming adversity, while long hikes or canoe trips provide ample time for both silent contemplation and conversations. This brings us to the fourth key factor identified in our analysis: trying something new. Think of new experiences at camp not as ends in themselves but as catalysts for reflection and conversation. When campers begin to interpret these new experiences (high ropes, canoeing, hiking the mountains, riding a horse, or simply playing a novel game) through the lens of faith, they begin to experience all of life as caught up with and dependent on the movement of the Holy Spirit.