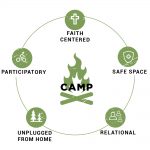 We close this series on the 5 fundamental characteristics of Christian camping with the one that is most prominent in camper descriptions: Camp is relational. This does not mean that it is more important than the other four. It is, however, the most valued. Let's hear from some campers:
My friends at camp are so much nicer than my friends at school. They let me be myself. – Sugar Creek Bible Camp, WI
We've only known each other for a couple days, but I feel like we're family. – Camp Lutherlyn, PA
Usually when you're at home, you're spending time with technology. Here, you're spending time talking to each other and not on screens. – United Methodist Camp, CA
We can see in these brief descriptions the perception that camp relationships are in some ways safer than those at home/school in allowing campers to be themselves, have an intensity that builds trust and genuine love in a matter of days, and are valued for being face-to-face rather than mediated by electronic devices. Campers long for the intimate relationships found at camp because they are human.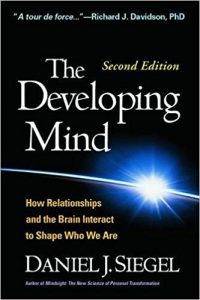 We are relational beings, created to be in community. As the Lord said, it is not good for us to be alone (Genesis 2:18). The human sciences confirm that interpersonal relationships are essential for survival and healthy development. Daniel Siegel, expert in the fascinating field of interpersonal neurobiology, demonstrates that the human mind is emergent from a dynamic interaction between an embodied brain and relationships with other minds. In other words, the mind itself only exists in relationship to other minds.
As Christians, we know that relationships and community take on theological significance. We believe in the God who exists in eternal community as Father, Son, and Holy Spirit. We believe that the living Christ is bodily present in the community formed among believers. As Jesus said, "Where two or three are gathered in my name, I am there among them" (Matthew 18:20). And from Saint Paul, "You are the body of Christ and individually members of it" (1 Corinthians 12:27).
Our individualistic culture often emphasizes self-actualization and individual achievement. Other people are envisioned as potential competitors or enemies. Faith is often reduced to an individualistic pursuit of salvation or a me-and-Jesus feel-good relationship.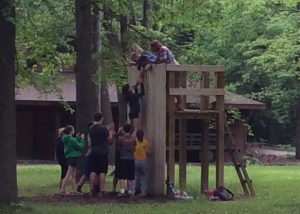 Christian camps do things differently. They emphasize cooperation, forgiveness, and working through disagreements. Camps are intensely relational. Participants eat, sleep, pray, play, work, and worship together. This close proximity to one another and near constant interaction means that there will almost inevitably be conflict or disagreement. Even when campers seem to be getting along perfectly fine, we complicate matters by having them participate in cooperative activities that challenge them physically and emotionally. Campers learn to paddle a canoe together. They learn to help each other through challenging obstacles in the wilderness or on the ropes course. They cook meals together. They don't always succeed, and they oftentimes get frustrated with one another.
A wise Episcopal camp director once told me, "You can't just go home. You can't just take your ball and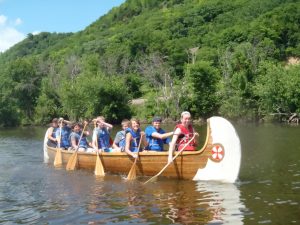 leave. When there's a real issue, there's a real good chance you're going to have to work through it." His camp, All Saints in TX, has developed a system of conflict management that empowers the campers to take responsibility for their actions and practice forgiveness and reconciliation. These essential Christian values are at work every day of the summer at camps across the country.
From the moment they arrive on site, participants are welcomed into these intentional Christian communities. They make new friends with their fellow campers, and they build vital relationships with the young Christian mentors who serve as summer staff and camp counselors. Through it all, these intense relationships are caught up with their relationship with Jesus Christ. They learn Christ's love and forgiveness through interacting with fellow believers. In these trusted environments, they feel comfortable expressing doubts and exploring their beliefs in new ways.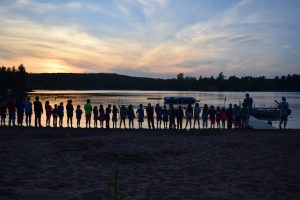 They learn through experience that Christianity is not an individualistic religion. We simply cannot be Christian without one another because Christ is found in community. Campers internalize these truths and embody them through their actions in the months and years following camp. Effective Camp participants showed increased church attendance in the months following camp, and they showed significant increases in their feelings of connection to Christian community and understanding that congregational life is important to faith. Looking at data from the National Study of Youth and Religion, camp participants showed higher participation in Christian community (including church attendance) more than 5 years after attending camp, in comparison with their peers who never attended camp (Sorenson, "The Summer Camp Experience and Faith Formation of Emerging Adults," Journal of Youth Ministry, Fall 2014).
We want our young people to understand the value of Christian community, to develop social skills, and grow in self-confidence. Let's send them to camp.
This post is part of a series on the five fundamentals of Christian summer camp. Read about other characteristics here: UNPLUGGED FROM HOME, SAFE SPACE, FAITH CENTERED, PARTICIPATORY