I arrived at Camp Calumet late Wednesday afternoon, leaving just enough time for a short walk through camp before dinner. Stretching my legs felt good after a day of travel. I strolled through the campground, past scores of campsites filled with tents, RVs, and smiling families gathered around smoking grills. I discovered that this was the area of camp where families came throughout the summer for Family Camp programs. Some had been coming to Calumet for decades, and some of them stayed in the campground for the entire summer. Others were there for the first time and just becoming acquainted with the beauty, fellowship, and fun activities available for people of all ages. I would hear some of their stories in the coming days over ice cream and beach barbecue.
I made my way at last to the beach, which was deserted except for a lone lifeguard. I took off my shoes and socks, relishing the feeling of the sand between my toes and taking in the sheer beauty of Lake Ossipee and the surrounding mountains of Central New Hampshire.
It felt good to be at camp.
Then I did something I knew I was not supposed to do: I distracted the lifeguard. I figured that I wouldn't get her into too much trouble, since there was no one in the water. I found out that she hailed from Texas and had been coming all the way to Calumet since she was a young girl, having been introduced through family connections. She was now a junior counselor, which meant that she was on staff for the first time. She loved it.
What kept her coming back from Texas summer after summer, I wondered? Was it the beautiful place? The people? The opportunity for ministry?
She thought for a moment, her eyes scanning the waterfront like the attentive lifeguard that I am sure she was. "It has to be the people," she concluded. "The relationships." She went on, "I love this place. It helps that it's really beautiful. But camp could really be anywhere, as long as the camp people were there."
I thought about her comments as I continued my journey through camp, realizing that they rang true for my own experiences with the camps that I loved most. The individual places at the camps where I have worked and attended are meaningful to me because of the people I have shared them with and the experiences we had there.
I saw these interactions taking place all around me during my time at Calumet. People were discovering holy space as they interacted with one another. They were discovering that Christ is found not in buildings or even beautiful places like central New Hampshire, but rather in human relationship. As Jesus said, "Where two or three are gathered in my name, I am there with them" (Matthew 18:20).
Take Luther Hall at Calumet. It is an old wooden building that has a lot of character. It was empty when I first stepped inside, and I remember thinking that it would seem at home in a historical old west town. But I knew that it was not a relic from some bygone era. Generations of campers and summer staff members had worshiped there, and I could perceive the holiness of the place as if the wood had soaked up their prayers and songs of praise. But the place was not meaningful to me. It was just a cool old building. That is, until Friday night, when I had the opportunity to attend the Candle Light worship service.
It was the last night of camp, and the energy in the air was palpable as over two hundred campers and staff members filled the space and erupted into songs of praise. The most exuberant of the songs involved the worship participants shouting, "One way: Jesus! You're the only one that I could live for!" The whole place shook with the sound of their praise. It does no good to describe it or even offer the audio that I recorded that night.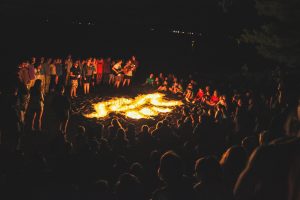 You had to be there. And it was not just the volume of singing that made the night special. These young people truly cared about one another. Several went to the front of the worship space to offer testimonies about their camp experience. A junior counselor shared, "I never felt more like myself than I did at camp." A camper said, "Camp is the first place I could be safe, happy, and free." These young people felt accepted and safe at camp in a way they had never felt at school or even at home. Others expressed gratitude to their counselors and their fellow campers, emphasizing the power of relationships over space, people over place. Together, we processed to the beach with candles, where we offered prayers to God and were sent forth in peace.
So Luther Hall is now a place that is meaningful to me, a place where I have experienced the power of community and the presence of God. How do I go from this place without tying God to the specific location? All great camps face this challenge. People of all ages experience God in unique and powerful ways in the camp setting. For many of the people I met at Calumet, these experiences of God and Christian community felt more authentic than their experiences anywhere else in their lives, including their home church. How can we help these participants see that it is not the place itself but rather the people of God gathered in Jesus' name?
The lifeguard I met on the beach understood this truth. The leadership of Calumet also understands it. They intentionally partner with the congregations of New England and seek to support them in ministry. They include pastors and other congregational leaders in camp programs and decision-making. They seek to bridge the gap between the camp experience and the experience of God at church or at home.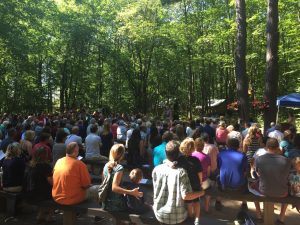 I closed my time at Calumet with Sunday morning worship. My understanding is that it was the largest gathering of Lutherans worshiping in New England that day, numbering perhaps 500 people. Some were family campers. Some were summer campers or staff members gearing up for a week of camp. Others were visitors. The outdoor chapel is a beautiful, peaceful place surrounded by pine trees and lined with rows of benches. But it was not the cross or the trees that made it a holy place. It was the people gathered from far-flung corners of New England to worship the Lord that made it holy ground.
As I write this, I am far from Calumet, but I can see the faces of the people I met at camp: the people who shared their stories with me, the people I worshiped with, the people who asked how I was and really meant it. My prayer is that as they go from that holy place, they will seek and find the face of Jesus in the people they meet. My prayer is that their churches and homes can become places where they feel safe, happy, and free.
The camp pastor reminded us again and again during the week. "What does Jesus look like?" he would ask. The campers responded, "YOU AND ME!"